'The View' stars Joy Behar, Meghan McCain clash over normalizing Democratic Socialism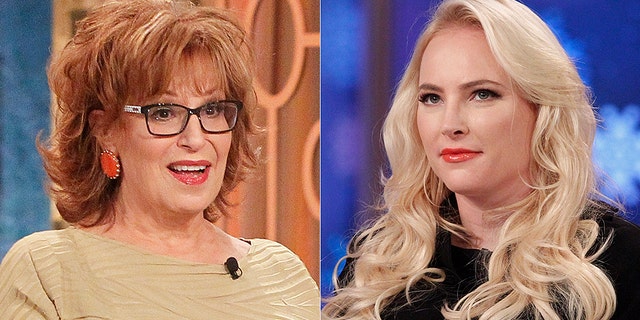 The panel of ABC News' "The View" erupted into chaos once again on Tuesday when the hosts clashed on whether or not the rise of Alexandria Ocasio-Cortez and the normalization of Democratic Socialism will benefit America.
Co-host Whoopi Goldberg said Ocasio-Cortez's political popularity concerns her.
"If you're a socialist, tell me that," Goldberg said. "Don't say that you're a Democrat… we don't have the same ideas of what should be happening."
'THE VIEW' HOSTS JOY BEHAR AND MEGHAN MCCAIN BUTT HEADS IN HEATED ARGUMENT ON ABC TALK SHOW
Joy Behar chimed in, saying that Democratic Socialism is "very close to liberalism," pointing to things like garbage collection and libraries to prove her point.
Sunny Hostin then detailed some of the issues that Ocasio-Cortez plans to encourage, such as "Medicare for all," fully funded public schools and universities, paid family and sick leave, justice system reform and "housing as a human right."
Behar approved, but the show's lone conservative Meghan McCain said it was making her "head explode."
McCain said she hopes Democrats do run on Democratic Socialism because they will "lose spectacularly" and she would look forward to election night if the left runs a "radical" candidate. McCain went on to slam socialism, quoting Margaret Thatcher in the process.
"At a certain point you run out of spending other people's money," McCain said.
McCain challenged Ocasio-Cortez to "name one country that socialism has ever worked" in and for her wealthy supporters to start paying "90 percent" in taxes. Meanwhile, Behar was busy trying to interrupt – naming various nations that normalized socialism.
McCain and Behar quickly got into a shouting match and Goldberg had to intervene – warning the panel to stop talking over each other.
'THE VIEW' STAR JOY BEHAR WATCHES CNN TO HELP FALL ASLEEP, CALLS WOLF BLITZER 'HYPNOTIC'
"If you think its good then you need to be paying the amount of taxes," McCain said. "It's petrifying to me that this is being normalized."
"Comparing America to a small country in Europe is delusional."
Behar then said that wealthy people in America don't need generous tax breaks.
"If you don't give that money to them, what happens to that money? Better school. Better post office," Behar said.
As the audience applauded, McCain fired back, "Comparing America to a small country in Europe is delusional."
McCain and Behar continued bickering when Goldberg finally interrupted the segment and tossed it to a commercial break.