The final three battle it out on 'Dancing With The Stars'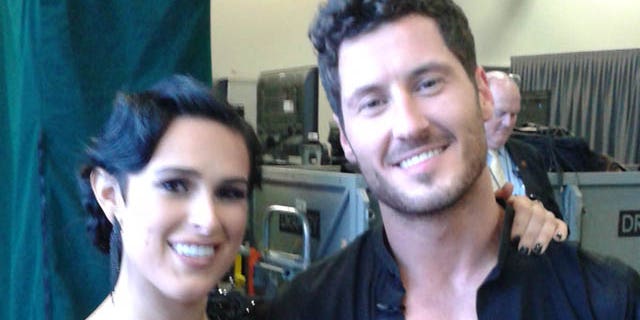 Who will win the coveted "Dancing with the Stars" mirror ball trophy?
Viewers will find out Tuesday night after the final three celebrities on the hit ABC reality show — Rumer Willis, Noah Galloway, and Riker Lynch — pulled out all the stops Monday night, with each performing two dynamic dances.
In the hotly-anticipated freestyle dances, Rumer displayed her singing as well as dancing chops by performing to her own cover version of the Britney Spears song, "Toxic," Galloway re-lived his experiences as a wounded veteran, and Lynch pulled off a Fred Astaire-meets-hip-hop style number.
The freestyle dances came after the three finalists also performed a favorite routine from earlier this season.
As usual, Rumer's devoted parents Demi Moore and Bruce Willis cheered for their daughter from the audience and this time around, everyone also heard her voice accompanying her dramatic dance with partner Val Chmerkovskiy.
Chmerkovskiy (who trained as a classical musician as a kid) played the violin on "Toxic" and laughed backstage that that close pal Rumer "left me no choice."
Rumer also told FOX411 about doing the freestyle, "Honestly, you have to just let the whole world disappear and you just have to dance with your partner and stay with that connection…it was amazing. I don't even feel like I totally remember it. I don't know how to explain it. We put everything we had on the floor."
While her supporters include A-listers like Gwyenth Paltrow and Ashton Kutcher, who tweeted their love on Monday, Rumer gratefully noted backstage that it was her crew of NON-famous fans who voted her into the finale.
Rumer received a perfect score of 80 for the two dances.
Meanwhile, double amputee Galloway scored a 32 for his first dance and a 40 for his second for a total of 72 points.
He told FOX411 about his freestyle with partner Sharna Burgess, "I felt great because I was not happy after the first dance and so many [co-stars] came up to me…and said, 'Shake it off.'
"And Sharna was like, 'Let's just dance and feel it.' And that's what I did."
Army veteran Galloway lost two limbs while fighting in Operation Iraqi Freedom in 2005, and hit rock bottom before pulling himself out of a major depression.
So for his freestyle, he explained backstage to FOX411, "The other dancers represented my mom, my dad, my sisters, friends of mine that have been on this journey with me even in the darkest times. When I was struggling and they were helping me, they were fixing me. Even when I didn't want them, they were doing something for me even if it was stepping back. But then they were coming in and it was that moment of walking and them doing it for me — and me coming out the other side on my own.
"I'm who I am today because of them and after it was done, I looked over and my mom is in the audience and it hit me. And after it went to commercial I went right over to her and we cried and told each other we loved each other.
"It couldn't have ended better," he said.
Riker Lynch, who dressed up in a white tuxedo, hat, and tails to dance freestyle with partner Allison Holker, also impressed earlier in the night by recreating his "Pirates of the Caribbean" dance, complete with firing cannon.
He told reporters, "That is such an epic dance for me. I'm such a 'Pirates' fan so the fact we got to do that again and get such great remarks from the judges was so cool!"
Lynch scored a perfect 80 for the two numbers.
The three finalists have one more dance to perform on Tuesday night before the "DWTS" champ is crowned to end season 20.
And Galloway's pro partner Burgess said it will be "a really hard call. I know we performed incredibly tonight, but so did everybody else."