'The Book Thief' review: A beautiful exploration of compassion during war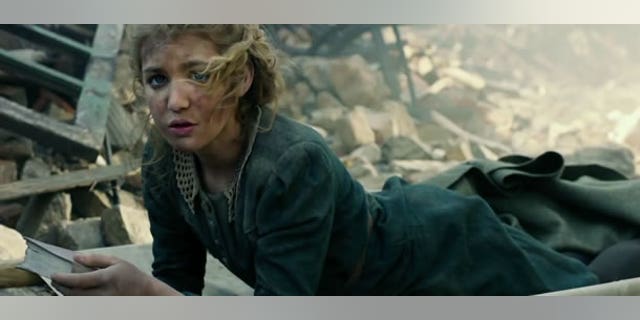 Markus Zusak's seminal novel "The Book Thief" is a potent work of Holocaust fiction for young adults that should be read alongside "The Diary of Anne Frank" and Elie Wiesel's "Night." Like any film adaptation, alterations were made, and the author's voice was replaced by the director's. Helmed by "Downton Abbey" director Brian Percival, "The Book Thief" doesn't carry a heavy war-movie presence. And while the starkness of the book is lightened, Percival's adaptation is still a good mix of restrained European filmmaking and Hollywood grandeur.
Illiterate orphan Liesel Meminger arrives at her new foster home afraid and carrying only 'The Grave Digger's Handbook,' which her dead brother left behind. Hans Hubermann (Geoffrey Rush) and his cantankerous wife Rosa (Emily Watson) welcome Liesel into their home. Hans teaches her to read and write and Rosa puts her to work delivering laundry. Through Hans' unbridled affection and her ragtag friendship with her doting neighbor Rudy, Liesel appears to escape the worst of the war, including the frequent air raids. But everything changes when Liesel steals a flaming book from a Nazi book burning ceremony and Hans hides Jewish refugee Max (Ben Schnetzer) in their basement. Thus begins a friendship between the two orphans filled with humor, suspense and a life lesson or two.
"The Book Thief" is a muted, sentimental exploration of life and death through the eyes of children, with Death (Roger Allam) literally narrating the film. Instead of focusing on the atrocities of war, human compassion takes the focus. Reading, writing and storytelling strengthen the human condition far more than fear and war and Percival conveys this simply and beautifully with the help of incredibly tender performances from his cast.
"The Book Thief" is a fine adaptation, but there are some contrasts which are befuddling. There are key sequences in the book that are incredibly cinematic and would relate perfectly in a film adaptation, though Percival and screenwriter Michael Petroni alter these moments, ironically making them less dramatic, ultimately weakening the emotional wallop.
The pacing slows to an intimate crawl halfway through as Liesel and Max's friendship grows. The book intersects Liesel and Max's friendship with her mini heists with Rudy. The film briefly refers to those heists and instead focuses on Liesel's growth and education with Max. Granted, there are some beautiful moments here, especially in the nuanced performances by Ben Schnetzer and Nélisse, but perhaps Percival should have kept a heist scene or two to keep the pacing tighter.
The film dangerously rests entirely on Liesel Meminger's shoulders and Sophie Nélisse soars as the vociferous and precocious young woman. Nélisse is commanding yet always sweet, beautifully bringing Liesel's compassion to life. This is wonderful career-making performance.
Geoffrey Rush exhibits impeccable restraint as Hans Hubermann, his affability will easily melt your heart as it does Liesel's. Rush gives one of his most gentle and charming performances. Whether he is encouraging Liesel to read and write or playing off Emily Watson's prodding, Rush again shows he is one of the finest actors working today.
Though a significant portion of their storyline was not included in the film, the strongest and most endearing moments in the film are between Liesel and Rudy, a Jesse Owens-obsessed Hitler Youth trainee who adores Liesel. Both look for ways to escape Hitler's oppression by flirting, playing games and ultimately stealing. Nico Liersch is marvelous as Rudy. He illuminates each of his scenes with charm and innocence, a striking contrast to the colorless Munich backdrop.
Composer John Williams has written one of his finest scores for "The Book Thief," his first score to a film not directed by Steven Spielberg in almost ten years. Composed primarily for piano and string orchestra, Williams' music is delicate, haunting and exquisite, and like the film, evokes incredibly emotional ideas in the most intimate of ways.
"The Book Thief" is a beautiful exploration of compassion during war with some truly marvelous performances. A must-see.
20th Century Fox. MPAA Rating: PG-13. Running time: 2 hours and 5 minutes.