'The Bachelor' recap: Andi rips Juan Pablo for being arrogant, leaves before rose ceremony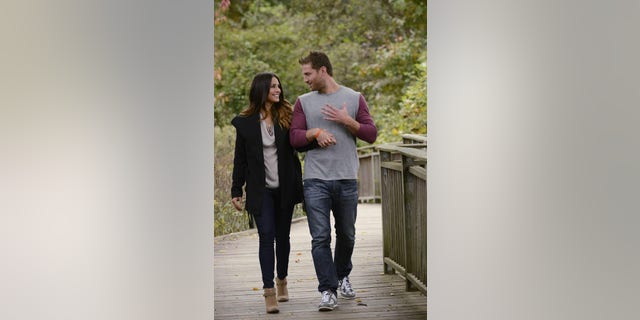 It was fantasy suite week on last night's "Bachelor," and with an explosive argument between Juan Pablo and one of the women, it certainly failed to disappoint.
Juan Pablo took his three remaining ladies to Saint Lucia for a week of tropical dates and the option for each woman to spend the night with him in the infamous fantasy suite.
Juan Pablo took Clare Crawley cruising on a yacht, followed by dinner and the presenting of the fantasy suite card.
When the moment came to decide, Clare told Juan Pablo that she respected how he took his 4-year-old daughter, Camilla, into consideration when deciding how to behave on the show.
"It matters to me that it matters to you," Clare said.
But after getting reassurance that he was comfortable spending the night with her, Clare admitted, "I really want to spend more time with you and as long as we're on the same page, I say yes."
Nikki Ferrell and Juan Pablo spent the day at the beach and she also accepted the fantasy suite date that night.
"This means a lot to me," she told Juan Pablo. "I love you and I think you probably already know that, but it's taken a lot for me to say it."
Juan Pablo took Andi Dorfman to explore a village and the two played a pick-up game of soccer with some locals.
Their night started off fine with lots of conversation about the future and Andi eagerly accepted the fantasy suite invitation.
"I can't stop smiling," Andi said. "I have this overwhelming sense of fortune and I'm excited."
The next morning, Juan Pablo told the cameras the night was fantastic.
"We laughed for hours," he said. "We get along very well."
But….Andi didn't exactly see it that way.
"Waking up this morning I could not wait to get out of the fantasy suite," she told the cameras.
"It turned into a nightmare. I saw a side to him that I didn't really like and the whole night was a disaster."
Andi said every time she attempted to talk about her feelings, Juan Pablo interrupted and started talking about himself.
"Not once did he really ask anything about me," Andi said. "He didn't care about who I was or what I want in life."
Andi added that Juan Pablo did a lot of "name dropping" and had the nerve to bring up his overnight date with Clare the night before.
"I'm not an idiot," she said. "I'm aware of the situation. But there's no filter with him. He thinks he can say whatever he wants and everyone is going to laugh."
Before the rose ceremony, Andi surprised Juan Pablo with a meeting to share her thoughts.
"I realized that I wasn't in love with you and that I wasn't going to be," she said.
Rather than crying -- like he did during his emotional goodbyes to Sharleen and Renee -- Juan Pablo appeared nonchalant, shrugged and said, "That's okay. If you don't think it's going to work, that's okay."
Andi was furious.
"It shouldn't just be 'okay,'" she said. "It's not okay. When you say that, it bothers me. You saying that comes off as you not having feelings."
"Am I going to die right now? No," Juan Pablo said with no emotion. "Am I sad? Yes."
"Do you think [the overnight] went well?" Andi asked angrily. "When you tell me you already had an overnight with Clare, do you think that's offensive?"
"I'm being honest. You know there are three overnight dates," Juan Pablo said.
"Right. Exactly [why] you don't need me to tell me that!" Andi yelled. "Do I appreciate honesty? Absolutely. Do I think you take it too far? Absolutely. Do you not see there's a difference between being an a**hole and being honest?"
After a brief, awkward hug goodbye, Andi rushed into a van to head to the airport.
"Am I disappointed? Maybe a little bit," Juan Pablo said after Andi departed. "The arguments disappointed me right away. Putting words in my mouth killed it right there. If she wanted to stay, I would have said no."
"He doesn't get it," Andi said. "He never will."
Nikki and Clare will face off for Juan Pablo's heart in two weeks. Andi, Renee, and all of the other eliminated women will dish on the season in "The Women Tell All" episode next Monday night.