The 8 Greatest TV Guest Appearances of Joan Rivers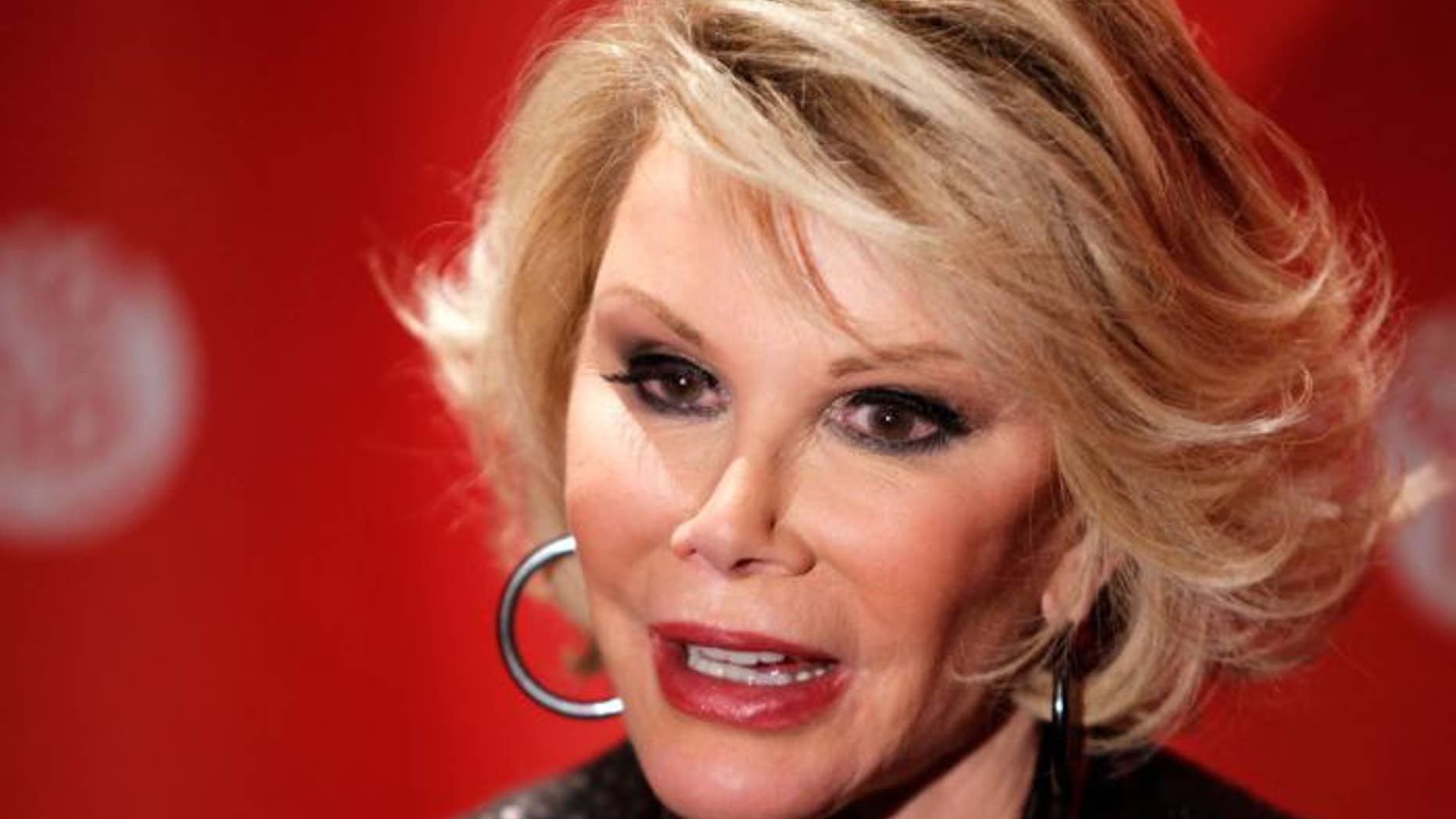 For almost half a century, Joan Rivers has been making us laugh until our faces hurt. And if the late comedienne could've seen our laughing faces, she probably would've pointed and made fun of our wrinkles.
Over the years, we've come to expect only the wittiest, raunchiest, and most acerbic humor from Rivers. Whether it was her stand-up routines, her roast appearances, or her no-holds-barred fashion commentary, she always had audiences rolling in the aisles or gasping in shock — sometimes simultaneously.
And perhaps nowhere were Joan's talents more evident than when she was a guest on live TV specials, variety programs and late-night talk shows.
Have a look back at some of Joan's best TV moments below, but maybe put your headphones on first. (She tends to use colorful language.)
'The Sammy Davis Jr. Show,' 1966
In one of her first television interviews, Joan appeared on "The Sammy Davis Jr. Show" alongside guest host Johnny Carson. The segment is admittedly tame by today's standards, but Rivers still managed to draw big laughs with one-liners about her lukewarm marriage and deplorable cooking skills. Even in this early clip, it's evident that she possessed that same biting wit she became infamous for throughout her career.
'The Ed Sullivan Show,' 1967
Joan was a regular on "The Ed Sullivan Show" in the late '60s, often appearing to perform a self-depricating routine between circus acts or musicians. In the above routine, from 1967, she describes her mother's (questionable) dating advice and her problems with the opposite sex.
'The Carol Burnett Show,' 1975
Joan's material wasn't for everybody, but she always knew how to win over a crowd. She gets off to a slow start in this clip from "The Carol Burnett Show," but she's completely in her element by the end of the set. So much so, that she's basically screaming jokes at the audience by the segment's end.
'The Tonight Show,' 1984
When Joan became a frequent guest host on "The Tonight Show," it became clear that her style was entirely different from Johnny's. She was raw, unpredictable, and completely willing to poke fun at herself, her child, the audience, and the Hollywood elite — nobody was safe. But, as evidenced by the audience's uproarious (and perhaps uncomfortable) laughter during her monologues, it was all in good fun.
'The Tonight Show,' 1986
By 1986, Joan Rivers was the permanent guest host of "The Tonight Show," but every once in a while she'd stop by just to trade stories with Johnny. Shortly before the two had their falling out (Joan felt slighted when she wasn't considered for Johnny's job, and Johnny felt betrayed when she took a gig at FOX), Rivers made one of her final "Tonight Show" appearances to reminisce and crack jokes like old friends. And midway through, they're laughing so hard they can barely hold a conversation.
The BAFTA Awards, 2007
Joan's antics were as much of a hit across the pond as they were in the States. or a case in point, just watch her appearance at the 2007 BAFTA Awards. While presenting the BAFTA for Best Comedic Performance, Joan stretched her gig into a memorable comedic performance of its own, listing out each of the nominees and explaining why none of them should win.
'The Graham Norton Show,' 2012
Rivers had been a guest on "The Graham Norton Show" numerous times, and by 2012, Norton had learned to let her rant about whatever she wanted. It paid off, too, because not only was his audience hanging on Joan's every word, but her fellow guests were doubled over with laughter.
'The Late Show,' 2014
No joke was off-limits for Joan, but that was especially evident during her late-night appearances. In this 2014 clip from "The Late Show With David Letterman," the audience can't help but laugh (and sometimes groan), at the things coming out of her mouth. The look on Dave's face is pretty priceless, too.