'Team Foxcatcher': Dave Schultz' widow says John Du Pont stalked family even from jail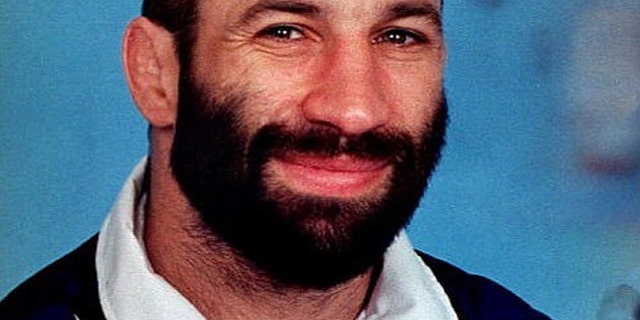 NEWYou can now listen to Fox News articles!
NEW YORK – Olympic wrestler Dave Schultz was murdered by John du Pont, the heir to Du Pont Chemical, in 1996. Dave and his wrestler brother Mark Schultz's story was told in the acclaimed 2014 film "Foxcatcher," and now Dave's widow Nancy Schultz is releasing a Netflix documentary, "Team Foxcatcher," which debuted at the Tribeca Film festival this week.
"I think it was for my children. You know, when Dave was taken from them, the last thing I wanted them for them was to traverse the world angry, you know, and with a lot of weight on their shoulders," she told FOX411. "So I think the first thing to do was just to put that aside, du Pont was a very sick ma,n and try to move on in a very positive way and the things that surrounded us afterwards were really beautiful. The wrestling community, the Olympic committee, community came together so there was a lot of really beautiful things that followed the tragedy."
Several years before actor Mark Ruffalo played Schultz in "Foxcatcher," his widow was already hard at work making her film.
"Well, we started the documentary long before 'Foxcatcher' was even imagined. We've been working on this for almost ten years," she said. "'Foxcatcher' is a fictionalized version. I think most people think they know the story and actually Dave Schultz and Mark Schultz never lived at the Foxcatcher property at the same time. So, this is a chance for us to really honor my husband's life and focus on him and his accomplishments, and what a wonderful person he was."
Schultz said that even after du Pont was locked up for the murder, his obsession with Schultz and his family continued.
"It was terrible actually," she said. "Long after he was in jail, he had private investigators follow my children to school, send me tapes and let me know that he could reach out so we had a lot of agony and I have to say when he passed away, although you never wish for someone's death, it was a relief to our family because we finally felt safe again."
Nancy was recently got re-married, and says Dave would have given his blessing.
"Dave would have wanted me to be happy," she said. "We both spoke of that when he was alive, you know, that we wanted each other to always live rich and full lives, you know, together or apart but I always know I had his blessing."