Taylor Swift trial: Singer's mother gives tearful testimony
A former disc jockey accused of groping Taylor Swift has taken the stand again in Denver federal court as testimony resumes in his legal battle with the singer-songwriter.
David Mueller has acknowledged that a photo of him with his hand behind Taylor Swift is "weird and awkward." But he insists he was touching Swift in her ribs, not her rear, as she alleges in the groping case.
TAYLOR SWIFT IN COURT AS JURY SEATED IN CIVIL TRIAL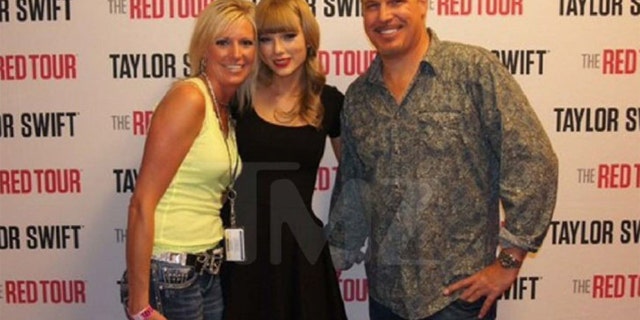 During testimony Wednesday at the civil trial, Swift attorney Douglas Baldridge repeatedly asked Mueller why his right hand is behind Swift in a pre-concert photo op.
Mueller says his hand was touching Swift's skirt after he put his arm around her and their arms got crossed.
He said his hand was at rib-cage level and "apparently it went down."
MORE: Taylor Swift's alleged groping photo
Baldridge showed the jury several photographs of fans meeting with Swift before the 2013 concert in Denver, pointing out another man who had his arm around Taylor's shoulder.
Swift's attorney said several people noticed the pop star was upset after meeting with Mueller.
Later in the day, the singer's mother, Andrea Swift, took the stage to testify about her role in the incident. She says that she noticed her daughter acting strange backstage after the alleged assault and asked what was wrong. When she realized what was going on, she claims she immediately worked with her team to have Muller removed from the premises.
In what became a tearful recounting of the events, she admitted that she wanted the DJ fired for grabbing her daughter inappropriately, which is what ultimately happened. She recalls seeing her daughter both "shaken" and "humiliated" after the incident.
She said she didn't contact police in order to protect her daughter, saying she didn't want the incident to "define her life."
Her bodyguard Greg Dent has testified in a deposition that he had seen Mueller lift Swift's skirt, the lawyer told jurors.
In addition, Baldridge quoted a deposition by Swift's photographer Stephanie Simbeck, who said Swift uttered "that guy" had grabbed her behind.
Dent and Simbeck are listed as possible witnesses at the trial.
Wednesday's court proceedings were delayed by a closed evidentiary hearing that lasted nearly two hours.
DJ TESTIFIES HE DID NOT ASSAULT TAYLOR SWIFT
Mueller was fired by his employer, country music station KYGO, and he's seeking up to $3 million in damages.
Swift countersued, claiming Mueller sexually assaulted her.
The Associated Press contributed to this report.