Sylvester Stallone attends 'Rocky' plaque dedication in Philadelphia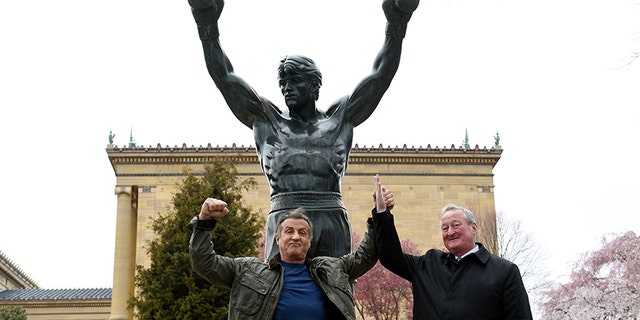 NEWYou can now listen to Fox News articles!
Sylvester Stallone surprised fans on Friday when he showed up in Philadelphia at the statue of his famed character Rocky Balboa.
The actor made time to go back to his character's old stomping grounds while in the city shooting the sequel to "Creed."
Stallone, 71, met with Philadelphia Mayor Jim Kenney for a dedication ceremony for a plaque that the actor said had been missing for the past 12 years.
'JERSEY SHORE' STAR RONNIE REVEALS WHY HE AND SAMMI 'SWEETHEART' BROKE UP
"This is a dedication of a plaque that was made for the statue 12 years ago , but believe it or not, it had been missed placed !" the "Rocky" star said in an Instagram video post. "Well, it was found and I want to thank the Mayor Jim Kenney and his staff , The Philadelphia Police Department, and of course the loyal fans that braved the cold. Keep punching, Philly."
The video showed Stallone mimicking the statue's victorious pose and onlookers could be heard chanting "Rocky! Rocky!" in the background.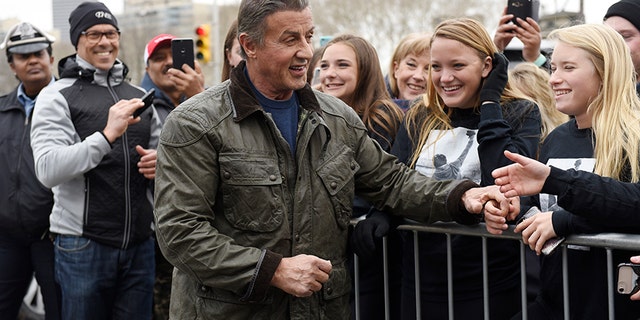 CHANNING TATUM AND JENNA DEWAN REPORTEDLY 'GET ALONG' BUT 'WILL NOT GET BACK TOGETHER'
The plaque, adorned to the statue next to the Philadelphia Art Museum steps which Stallone famously ran up in the "Rocky" movies, dedicates the statue to Phildelphia and the "brotherhood of its people."
The mayor also presented Stallone with a personalized jersey from the Super Bowl champion Eagles.
Stallone commissioned the statue for "Rocky III" in the 1980s.
The Associated Press contributed to this report.