Sydney Leathers takes Anthony Weiner sext scandal to the bank, does porn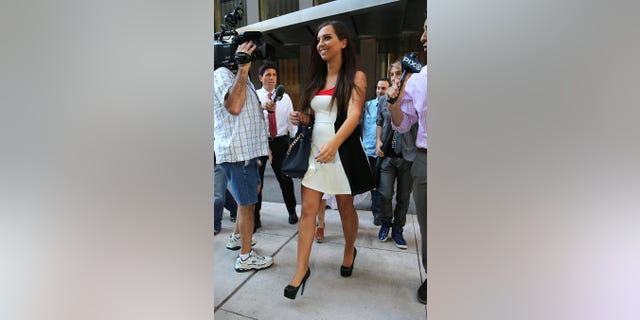 A week ago Anthony Weiner's sexting buddy Sydney Leathers told Howard Stern she was considering an offer to do a porno.
Vivid Entertainment CEO Steven Hirsch then confirmed they were the ones behind the proposed deal. "We have offered Sydney several options," he said, "but as of now no agreement has been reached. We hope to get a deal done with her soon."
PHOTOS: Celebrity nude scandals
America, that deal is closed. Leathers has become the latest sex scandal sensation turned porn star.
Vivid posted a video interview and excerpts from the porno on its website.
"I'm Sydney Leathers, " she says in a promo video. "Anthony Weiner and I had a sexting relationship for several months and that came out in the press, so here I am."
Indeed.
"We did send each other pictures," she continues. "They were pretty much all nude."
In one of the photos from the shoot, Leathers poses topless with a fake newspaper blaring a "Weinergate!" headline.
Leathers has been in the news since revealing to another gossip site that she had engaged in phone and Internet sex with New York City mayoral candidate Anthony Weiner long after he resigned from Congress after admitting to sending photos of his nether regions to other women.
Weiner was married then, and still is. He's also still running for mayor.