Suki Waterhouse says she's growing out her body hair to play a Manson girl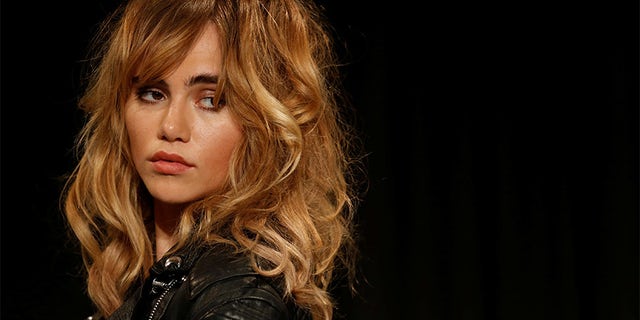 NEWYou can now listen to Fox News articles!
Suki Waterhouse is embarking on a major transformation to become a Manson follower.
The English actress and model is set to star in the upcoming film "Charlie Says," which explores the life of cult leader Charles Manson and the three young women who were sentenced to death or life in prison following the brutal 1969 murders of seven people.
The victims included actress Sharon Tate, who was eight months pregnant with her first child with director Roman Polanski.
MANSON'S YOUNGEST FOLLOWER TELLS ALL
The 26-year-old will play Mary Brunner, one of Manson's original followers and the mother of his third son, Valentine Michael Manson.
Waterhouse told Vogue she ditched the razor to get into character.
"I'm growing all my leg hair out," she told the magazine. "I really don't mind it, I've done it lazily before. This is an opportunity to grow my chin hair out."
This isn't the only movie in the works about the Manson family.
Tate's younger sister Debra recently lashed out against another film about her sister's murder starring former child star Hilary Duff titled "The Haunting of Sharon Tate."
Duff, 30, stars as Tate.
Debra told People Wednesday the movie is "classless" and "exploitative."
"It doesn't matter who it is acting in it – it's just tasteless," said Debra. "It's classless how everyone is rushing to release something for the 50th anniversary of this horrific event."
Tate's younger sister was 16 when the 26-year-old was killed.
Quentin Tarantino is also working on a Manson film, which Sony Pictures reportedly purchased for $100 million. However, pressure has been building for Sony Pictures to cancel the movie after audio of the fame director defending Roman Polanski resurfaced.
In a 2003 interview with Howard Stern, Tarantino said the 13-year-old girl Polanski was convicted of raping "wanted to have sex" with the filmmaker.
After being convicted of the murders, Manson was sent to California's Corcoran State Prison to serve time for nine life sentences. He died at the age of 83 on Nov. 20, 2017.
Debra said on the day of Manson's death she received a call from the prison to inform her of the news. "I said a prayer for his soul."