State of the Union reactions: Celebrities slam Trump but admit they didn't tune in
NEWYou can now listen to Fox News articles!
It should come as no surprise that Hollywood was not happy with President Trump's first State of the Union address.
Many self-proclaimed activists from Hollywood took to social media to offer their critique of Trump's speech. While some stars did watch Trump's address, others said they refused to tune in but still offered their criticism.
I already know the state of the union-ain't good. Was pretty damn good about a year and a half ago.

— Michael Keaton (@MichaelKeaton) January 31, 2018
not watching

— Kumail Nanjiani (@kumailn) January 31, 2018
#ImNotWatching #YouLie #ThisIsNotUs

— Michael Moore (@MMFlint) January 31, 2018
Can't even watch this vile, deceitful fraud and his bizarre cult of self-interested sycophants. #SOTU #Click

— Jeffrey Wright (@jfreewright) January 31, 2018
I tried. I listened but the amount of BS and stunts and questions raised that will never be answered made me throw my remote and now I am listening to Tom Petty and am a better American for it. #SOTU

— Elizabeth Banks (@ElizabethBanks) January 31, 2018
Tonight at 9 PM EST, I will be watching "All the President's Men."

— Josh Gad (@joshgad) January 30, 2018
I'm not watching some frothing orange gorilla read off a teleprompter. I've got better things to do, like alphabetize my spice cabinet. #StateOfTheDream

— George Takei (@GeorgeTakei) January 31, 2018
I will always support you #Brave one. I wrap my arms of love around you with healing compassion. Please #WatchRoseNotTrump today and make visible the once ignored. Sunshine is the best antiseptic 💖 https://t.co/SZvc4tb8hM

— Jessica Chastain (@jes_chastain) January 31, 2018
#ResistanceMovement pic.twitter.com/F70GDUDjHA

— ROSIE (@Rosie) January 31, 2018
I was told darkness could not exist in the light. But here it is, for everyone to not see.#SOTU

— Sarah Silverman (@SarahKSilverman) January 31, 2018
Many of Trump's vocal Hollywood critics participated in a "People's State of the Union" counter-event in New York City on Monday.
Outspoken Trump critic and actor Mark Ruffalo hosted the program which focused on the anti-Trump "Resistance" movement, immigration issues and attacking the "ugly underbelly" of Americans who voted for Trump.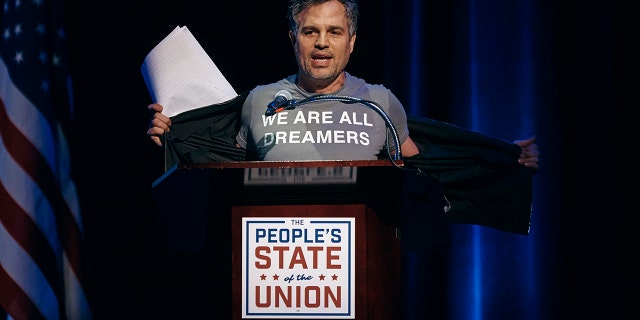 The three-hour event was sponsored by various left-wing organizations including Planned Parenthood and MoveOn.org and organizers of the Women's March.