Stanley Tucci, Felicity Blunt surprise crowd with pregnancy announcement during movie premiere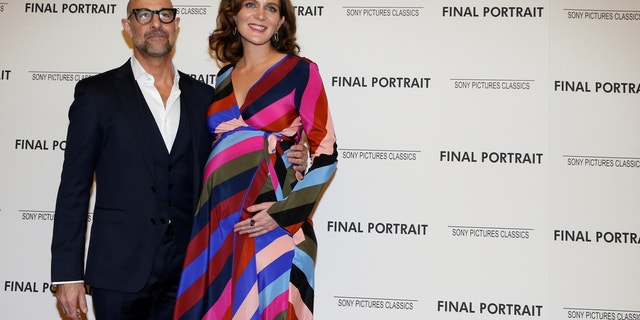 Another baby is on the way for celebrity couple Felicity Blunt and husband Stanley Tucci. Blunt showed off her growing baby bump underneath a striped Diane von Furstenberg gown Thursday at a screening of Tucci's new movie "Final Portrait" in New York City.
It will be the second child for the couple. The pair have a 3-year-old son named Matteo. Tucci, 57, also has three children — Camilla, 15, and twins Nicolo and Isabel, 18 — with his late wife Kate, who died in 2009 from breast cancer.
"There's all the blaming of yourself, which you can't do, but you kind of do and I'm just — I'm mostly sad," Tucci said of his Kate's passing in an interview with People Magazine. "I'm sad for Kate that she can't be here, and I'm sad for my children that they didn't have the opportunity to spend more time with her because she was an extraordinary person."
The power couple had not publicly discussed the pregnancy before the premiere of the movie, which was written and directed by Tucci.
"I'm trying [to spoil her]," Tucci told Us Weekly at the premiere, which was held at the Guggenheim Museum in Manhattan.
Blunt's sister, actress Emily Blunt, and Meryl Streep also attended the event, giving fans serious "Devil Wears Prada" flashbacks.
Meryl greeted Emily on the red carpet and was also spotted smiling with Tucci, according to People Magazine.
Tucci and Felicity got engaged in 2011 — about five years after Tucci costarred in "Devil Wears Prada" with her sister. They were married in a secret ceremony in August 2012.