Springtime Grilling: Marc Murphy's Short Ribs & Cauliflower Rice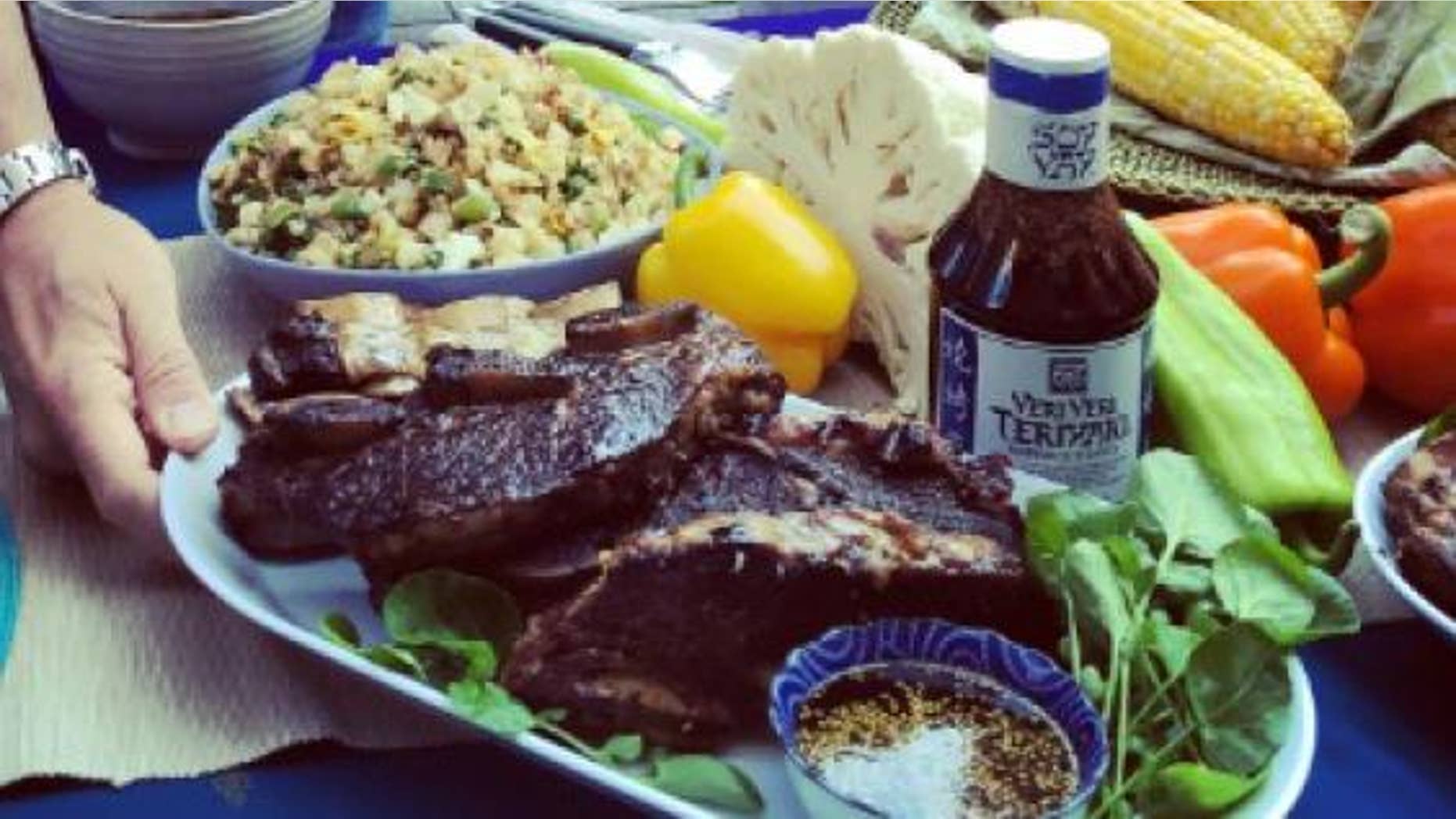 MARC MURPHY'S GRILLED TERIYAKI BEEF SHORT RIBS
Ingredients:
5 lbs. beef short ribs, flank cut
¼ c. vegetable oil
1 large onion
2 carrots
4 celery stalks
½ c. Soy Vay® Veri Veri Teriyaki® Marinade & Sauce
1 qt. low sodium chicken broth
1 c. light brown sugar
Instructions:
Chop the onion. Slice the carrots and celery into quarter-sized slices.  Season the short ribs with salt and pepper on both sides. Set aside. Heat oil in a large heavy-bottom pot over high heat. Prepare a charcoal grill for direct cooking over medium-high heat.
In the pot, sear the short ribs until golden brown crust forms, about 3 minutes per side. Remove the short ribs, turn the heat down to medium and sauté the onions, carrots and celery until tender, about 10 minutes.
Add the ribs, Veri Veri Teriyaki sauce, chicken broth and brown sugar to the pot. Stack ribs side by side so they cook evenly. Turn the heat back up to high and bring the ingredients to a boil.  Cover the pot, turn the heat down to low and simmer for about an hour.
Once the meat is cooked, remove from the heat and allow it to cool in the liquid for 15 minutes. Remove ribs from the pot and use a colander to strain the cooking liquid into a large bowl. Pour the liquid back into the pot and then bring it to a boil. Turn heat down to low and simmer for about 15 minutes or until the liquid has reduced by half the volume.
Place the ribs on the grill and cook until caramelized and heated through. Brush ribs with the sauce and serve.
-----------------------
MARC MURPHY'S CAULIFLOWER FRIED RICE
Ingredients:
1 head cauliflower (about 24 oz.)
2 large eggs
1 tbsp. sesame oil
1 onion, medium size
5 scallions
½ c. peas, fresh or frozen
2 cloves garlic
3 tbsp. Soy Vay® Veri Veri Teriyaki® Marinade & Sauce
½ c. medium firm tofu
salt and pepper, to taste
Instructions:
Dice the onion and the tofu.  Thinly slice the scallions, separating the whites from the greens.  Mince the garlic.
Remove the core from the cauliflower and allow it to dry completely. Coarsely chop the cauliflower into florets. Place the cauliflower into a food processor and pulse for about 30 seconds until the cauliflower is small and has the texture of rice or couscous. Be careful not to over process or the cauliflower will get mushy. Set aside.
Whisk the eggs in a small bowl and season with a pinch of salt. Heat up half the sesame oil in large sauté pan or wok over medium heat.
Cook egg mixture until firm. Set aside.
Using the remaining sesame oil, sauté the onions, scallion whites, peas and garlic until tender, about 4 minutes. Add the cauliflower "rice" to the pan along with Veri Veri Teriyaki sauce and tofu. Cook for 5 to 6 minutes, stirring frequently, until the cauliflower is slightly crispy on the outside but tender on the inside.
Mix in the egg and gently fold in scallion greens. Salt and pepper to taste. Serve immediately.