Sports Illustrated Swimsuit model Anne de Paula: My parents are proud of my photos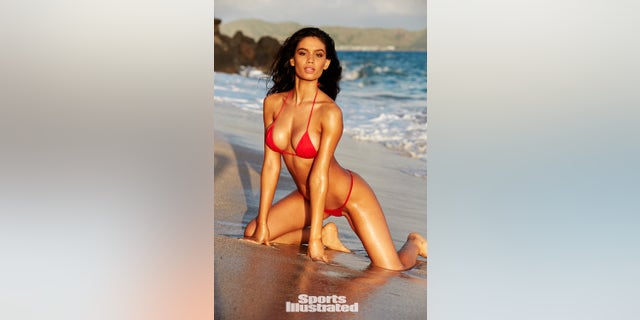 Brazilian bombshell Anna de Paula knows a thing or two about heating things up.
In 2017, the model won the Sports Illustrated Model Search competition and she soon found herself posing in body paint for the coveted issue. Fast forward to 2018, de Paula is back in the magazine and this time, she leaves little to the imagination by wearing one of the skimpiest swimsuits SI has to offer. But don't worry — de Paula's parents are totally fine with the snaps.
Fox News spoke to de Paula about what it was like appearing for Sports Illustrated again.
Fox News: Is it true you originally wanted to become a doctor?
Anne de Paula: Yes, I wanted to be a doctor! I grew up in a family that all worked in health. My mother does X-rays, my dad's a nurse. My uncle is a cardiologist. So my family is very involved in helping people.
So growing up, I looked up to them and I wanted to be just like them… And I've always loved babies. So I always thought I would be helping babies come into the world. That's what I had in mind… But then I was involved in soccer, so that changed my mind. I was really into sports and I played for my city team, my school. Modeling came last.
Fox News: How did you end up becoming a model?
de Paula: My mom was the one with the idea. Growing up, I was a tomboy and I loved playing soccer with the boys in the streets. My mom was the one who was giving me high heels and going, "Would you like to do a photoshoot? There might be something for you there." I told her, "Mom, I'm not sure. I don't even know how to walk in high heels!" But then I did my first photoshoot around 12 [or] 13 and I loved it.
I loved sports, but I also liked this girly version of myself. I wasn't popular in school. I wasn't successful with the boys. They never really looked at me like a girl because I was always playing with them… So I just started doing more and more photos until my mom sent me to an agency at 13. So she was the one who got me into it!
Fox News: What was your experience like shooting for Sports Illustrated?
de Paula: I didn't even expect to win the Model Search last year, to be honest. I was one of the least followed models on Instagram for them. So I wasn't even sure how I would get votes. But then it happened! I didn't think I had so many people who supported me. Everyone was so happy and cheering for me when I got the news. It was a very emotional time… And there wasn't body paint... (laughs).
It was bikinis. So I felt a little more dressed in this year's photos. But maybe not – I think the bikinis are actually smaller than the body paint from last year now that I think about it (laughs). It's actually more revealing with the bikini on than wearing nothing, but body paint. It was a tiny, tiny bikini – just like how the Brazilians like it.
Fox News: How does your family feel about the photos?
de Paula: My parents love the photos. My mother has a big photo in the house right in the living room of me just wearing body paint. So if you go to the house, the biggest photo you'll see is of me kneeling down in the sand wearing body paint. My grandmother and grandfather? They had loads of copies of the magazine.
I mean look, Brazilians are very open-minded when it comes to the size of a bikini… Nobody judges you. So I feel like I'm very lucky because nobody has ever said anything mean to me about my photos… And SI does very tasteful photos. I'm never worried about what's going to come out because I know they're going to take good photos.
Fox News: Sports Illustrated claims to be about female empowerment. How do you feel about their message?
de Paula: I think it's amazing… One of my favorite models from SI is Kathy Ireland. And look at her now – she's an amazing businesswoman. Same with Christie Brinkley. These women offer so much more than just the beautiful photos you see… And it's so good to see that we are not scared to speak out, to let others know we're human.
We all feel insecure. We all have bad days. Listen, we work in an industry where you have to be dealing with the way you look all the time. And not every day you want to wake up and do your hair or makeup. But when people see your photos, they think that's how you wake up. And that's not true… I think it's beautiful SI is embracing different body types, different types of beauty.
Fox News: Has Sports Illustrated made you feel more confident?
de Paula: I love the idea that SI celebrates different body types... So it's nice that I can pursue this dream of modeling even if I may not have the typical shape of one that you would see on the runway.
But the magazine, they celebrate different types of beauty. Not everyone likes the same thing. If they did, life would be boring.
Fox News: What are some fun facts our readers should know about you?
de Paula: I can kick your ass because I do Muay Thai (laughs). I may look fragile, but I'm definitely not… And I love to cook and invent new things in the kitchen. I don't know if I'm a great cook, but I definitely love to at least try. And I'm still very passionate about soccer. It's been a while [since] I've played because you have to keep your nails looking nice for this job. But if I had some free time, I would definitely go back to Brazil and play.