Sources say Arsenio Hall show in a ratings spiral; execs think its right on track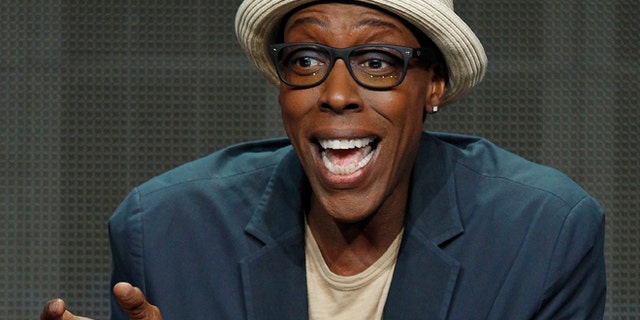 LOS ANGELES – Twenty-four years ago Arsenio Hall burst on to the late night television with his hit talk show "The Arsenio Hall Show." This year, Hall rebooted the show in syndication on CBS, but so far, Hall has not been able to match the original's popularity. And while show execs tell FOX411 they aren't worried, other industry watchers say they should be.
"Sadly, the show seems to be in a downward spiral with no signs of ebbing," one well-placed television industry executive told FOX411. "CBS and the Tribune stations tried to relive the past by giving Arsenio Hall another talk show, but ratings are looking far from optimistic."
Nielsen ratings indicate that the show indeed started strong, averaging a 1.5 rating/6 share in its 56 metered markets on its September 9 premiere, up 50 percent from the year ago time periods for the stations on which it airs.
But things soon headed south fast, as the show has suffered a whopping 40 percent ratings drop since its debut, with 18-49 target audience fleeing even faster, falling from a 1.0 rating to a concerning 0.4.
"Arsenio appears to be failing to make a connection with the audience," said marketing expert Craig Valine. "Other than his participation on 'Celebrity Apprentice' (in 2012) there has been no real public connection with the public in years… Arsenio's drop in ratings comes from past fans that were looking for a connection to his past. Some got it the first week, and then they were done."
Adding to questions regarding its stability, just four weeks into its run, Hall's show made a big staff change. Neal Kendall stepped down as an executive producer and was replaced by CBS Television Distribution's SVP of Programming and Development, Eric Pankowski, who joined the company in May, and is said to be overseeing production.
Deadline.com reported a source saying at the time that the executive producer shake-up was done as a "proactive move to shore up the show's long-term prospects with the right fit in the key position," yet other industry insiders are less optimistic.
"With the EP fired and no replacement (aside from the CBS programming executive) things are chaotic," another insider said. "The ratings trend is a death spiral. But I expect they'll hold on to the show until the Tribune stations start pressuring them to end it."
We're told that when it comes to syndication, generally a minimum one-year commitment is made, and Hall's camp insists that there is absolutely no call for concern.
"We launched to record-setting ratings and are only two months into an exciting marathon, delivering a show that's resonating with key demos that skew younger than almost every other late night show, be it broadcast or cable," a show rep told FOX411. "Our executive producers, Arsenio Hall, John Ferriter and Eric Pankowski, are getting a terrific response to the top-tier guests they've lined up for November and beyond."
Hall's manager John Ferriter is also enthusiastic about the program.
"The show is going great. I'm out at the show right now with Janelle Monae," he said. "Simon Cowell was here Friday with Paulina Rubio and it was off the hook fun."
Indeed bookings don't appear to be Hall's problem. A show insider told us that plenty of known names are slated to join the hot seat throughout November, including Eddie Murphy, Whoopi Goldberg, Zooey Deschanel, Anthony Hopkins and Donnie Wahlberg.
But in the Twitterverse, Hall is receiving mixed reviews for his approach and content.
"This one doesn't work. Not funny at all. Defies reality," one viewer tweeted while others criticized the re-birthed program with "the race monologue doesn't work in 2013." On the flipside, other fans enthused that the show is "hilarious" and that they "couldn't stop laughing," as scores welcomed Hall back into the fold.
Other industry experts argue Hall has reason to hope his comeback will work, despite the current ratings trouble.
"The series got off to a great start ratings-wise, which is a testament to the enduring charm of Arsenio and fond memories of his original. His strong early start suggests that there is a void that viewers are looking to fill – presumably a talk show with the kind of urban sensibility, cutting edge artists and house party vibe of Hall's original show," said Hollywood-based pop culture reporter Scott Huver. "He now needs to lure the most cutting-edge talent to his couch long before Leno, Letterman, Kimmel and the rest even show interest, create moments that feel more viral-ready than nostalgic, and revamp the show's leaden comedic sensibility. He still has a window to make it happen."