Source: Family meltdown has Michael Jackson's kids grieving their father all over again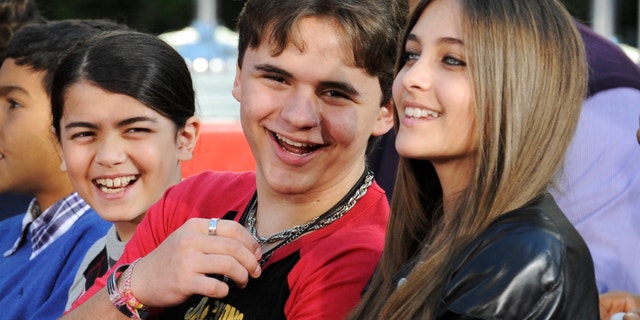 LOS ANGELES – It has been a tumultuous two weeks for Prince, Paris and Blanket Jackson, the three children of the late Michael Jackson. Their grandmother Katherine Jackson was reported missing, then located in Arizona with family members, but was still not in contact with them. On Monday, police were called to the kids' Calabasas home following reports of a physical altercation between various family members.
To top off the drama, on Wednesday a Los Angeles judge suspended Katherine's guardianship and appointed Tito Jackson's son TJ as the temporary caregiver for his young cousins.
Katherine Jackson told ABC News that she was "devastated" by the court's decision, debunked the widespread rumors that she had been abducted and held against her will, and insisted that she was returning to Los Angeles to be reunited with her grandchildren immediately.
According to a source close to the family, serious damage has been done, and Michael Jackson's kids are mourning their dad, who died suddenly in 2009, more than ever.
"These people (family members) are all the people that their father tried so hard to keep them away from, and now the kids are caught in the middle of it. It is making them grieve Michael all over again," the insider told FOX411's Pop Tarts column. "Blanket in particular is very sensitive and very withdrawn, so this throws him into even more of a shell. Prince usually follows the lead of his sister Paris, who has a strong personality, and both are missing their dad terribly."
Paris has taken to tweeting lyrics from her father's songs to express her emotion, including a key phrase from "Will You Be There:" "Everyones taking control of me, it seems that the worlds got a role for me .. im so confused will u show to me you'll be there for me." She also tweeted an instagram photo of herself proudly donning an MJ shirt.
Our source said the children will most likely move into TJ's home nearby, to avoid a repeat of Monday's debacle outside the Calabasas digs.
"The siblings keep referring to that house as their house but it is not. It's the home for Paris, Prince and Blanket. At least if they are in TJ's house, this can't happen," said the insider.
We're also told that there is a high probability TJ will become more than just a temporary guardian.
"Jackie (son) and Trent (nephew) have done a really sound job in shielding [Katherine] from all this madness and the siblings' desire to challenge the will and take control of the estate," continued the insider. "This has to be overwhelming and heartbreaking for her, she doesn't want to be in a big fight, but doesn't know which way to turn… I will be surprised if she does get the children back."
In a press conference following the judge's guardianship ruling on Wednesday, an attorney for Katherine, Perry Sanders Jr. confirmed that paperwork would be filed to reinstate Katherine's role immediately and that the court made it clear that her guardianship was suspended not on the grounds of wrongdoing, but because she was "out of pocket and paperwork could not be filed for her." He also downplayed the escalating drama, and said it was a "misunderstanding" but "nothing like what media sources say."
And while head-honcho Joe Jackson appears to have stayed away from the recent wind of family drama, it doesn't sound like that will last long.
"Joe always said to the kids when they were young, and Michael actually used this in one of his songs, 'throwing rocks and hiding your hand' which is like causing problems and then pretending you had nothing to do with it," added the source. "Joe in involved and knows how to pull strings from afar. We'll see him emerge in all of this soon."
A legal representative for Katherine Jackson did not respond to a request for further comment and a rep for Joe Jackson could not be reached.
Editor's Note: This article references a report by TMZ.com that Janet and Paris Jackson were involved in a physical altercation. TMZ.com later retracted this repor