Sofia Vergara wishes her boobs were fake: 'My boobs are, like, huge'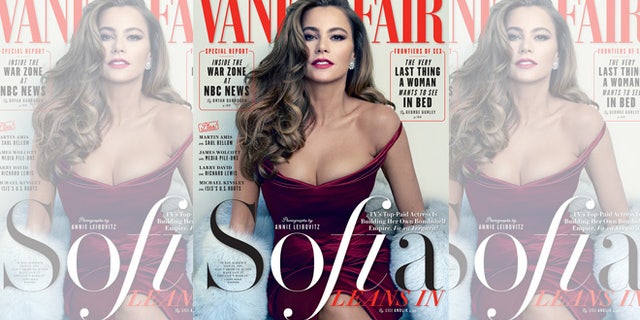 Sofia Vergara recently said her curvaceous figure has helped her but also stopped her from getting certain roles in Hollywood. Now she has another bone to pick with her body.
"My boobs are, like, huge," the Colombian actress said in Variety Fair's new cover story. "My whole life, buying a bra was a nightmare. What I used to do when I moved to L.A., I found places like Frederick's of Hollywood that makes bras for (strippers)."
She added, "Believe me, I wish I had fake boobs. I lay down and they completely go down like all the way … it's not fun."
However, Vergara, 42, is not apologizing for the sex symbol status her body affords her and will talk about her body freely. She revealed what she doesn't like is when fashion critiques chastise her being repetitive in her wardrobe choices.
"Sometimes you read in the press like, oh Sofia is wearing again the same shape dress, and I want to answer them and say, 'What the f*** do you want me to wear?'" she said. "Obviously there's a reason why that's what I do for."
The "Modern Family" actress works hard to be more than just a pretty face.
She and manager Luis Balaguer founded Latin World Entertainment (LatinWE), a Hispanic talent agency, to compete with Univision. She also has made a brand for herself and knows how to sell it.
"I'm the perfect candidate for any endorsement, because they hire me and hit the English and Spanish markets at the same time," said Vergara, who is the face of ATT&T, CoverGirl, Diet Pepsi and Head & Shoulders.
She added, "I never wanted to be an actress. I take acting as a gift, because it was nothing that I ever dreamed about growing up. I'm limited because of my accent, the way I look. And if I want to do more serious stuff I think I'm going to have to end up producing it myself."
Vergara's professional life is not the only one striving. Her personal life is doing pretty well.
The actress, set to marry fiancé Joe Manganiello next month, told Vanity Fair exactly how they met.
"The day I sent the press release (announcing the split from Nick Loeb), Joe immediately contacted Jesse Tyler Ferguson, like, 'Please, please, please tell her I want her number.' And I'm like, 'Jesse, no. He's too handsome,'" Vergara said. "Then, after two days of Jesse trying to convince me, I'm like, 'OK. Give him my number.' I'm thinking, 'I'm in New Orleans shooting ('Hot Pursuit), and he's in L.A. Nothing's going to happen.'"
But it did.
"We started talking a lot, and then he showed up in New Orleans. Since then we've been inseparable," she said. "There's nothing about him I'd change other than the fact that he's four years younger than me."