Sofia Vergara makes NSFW joke at Golden Globes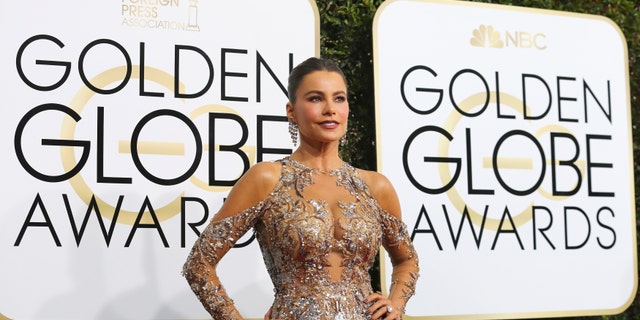 Sofia Vergara made a very cheeky joke during the 74th annual Golden Globe Awards Sunday night.
The "Modern Family" star took the stage to introduce Sylvester Stallone's three daughters -- Sophia, 20, Sistine, 18, and Scarlet, 14 -- as this year's Miss Golden Globes.
Vergara couldn't help but sneak in a raunchy joke while introducing the sisters.
MERYL STREEP, JIMMY FALLON AND MORE USE GOLDEN GLOBES STAGE TO SLAM TRUMP
"The Hollywood Foreign Press Association has an anal tradition," the actress said while appearing to pretend to be embarrassed. "I didn't mean...They have an anus tradition. They have a tradition that they do every year of choosing a second-generation performer to assist in the presentation of the awards."
The Twitterverse immediately lit up with fans questioning whether Vergara's NSFW mispronunciation was a mistake or on purpose. But Vergara quickly put those rumors to rest writing on Instagram, "I look lonely back stage but I was just trying to come up with my an*s joke hahhahha!!!!#goldenglobes2017 #itsallaboutentertaining."
RED CARPET PICS: SO HOT, OR SO NOT?
She concluded, "To fulfill the duties of Miss Golden Globe tonight are the three talented and beautiful daughters of Sylvester Stallone and Jennifer Flavin."