Sofia Vergara called out by protesters at 'Magic Mike XXL' premier, 'Unfreeze your daughters!'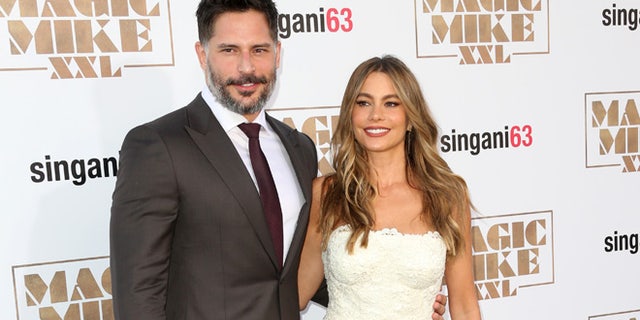 NEWYou can now listen to Fox News articles!
When Sofia Vergara arrived at the premiere of Magic Mike XXL in Los Angeles, she was probably expecting an enthusiastic response from the crowd gathered in front of the theater. She probably wasn't expecting, however, the certain type of enthusiasm that she received.
When the 42-year old "Modern family" star arrived to support her fiancé Joe Manganiello's latest film, she was met with angry shouts and posters from anti-abortion protestors imploring Vegara to keep the embryos she froze with her ex-fiance, Nick Loeb.
"Lives created should be lives protected," one sign read, according to ET Online. "Sofia: Unfreeze your daughters. Unfreeze your heart," another one stated.
Loeb has filed a lawsuit earlier this spring regarding two frozen embryos the former couple had created about six months before they split last year. In his suit, he said he wanted to make sure the "Modern Family" actress does not destroy them or keep them frozen.
In court documents filed by Loeb, who used the pseudonyms John and Jane Doe, the businessman claimed his former flame refuses to agree to their preservation under all circumstances.
Vergara and Loeb are said to have previously used a surrogate to get pregnant twice, but were unsuccessful. Before the last two embryos could be implanted in a surrogate, the two ended their relationship.
Vergara opened up to shock jock Howard Stern on his SiriusXM show about the controversial lawsuit.
"More than a mother, [a child] needs a loving relationship of parents that, you know, get along, that don't hate each other," she said. "I don't hate him [Loeb] but obviously he has a problem with me. … I wouldn't imagine anyone saying to bring to the world kids that already have everything set up wrong for them. It'd be so selfish."
She told Stern that she didn't read Loeb's Op-Ed on frozen embryos that he penned in the New York Times because her publicist told her it "makes no sense."
In his Op-Ed, Loeb wrote: "Many have asked me: Why not just move on and have a family of your own? I have every intention of doing so. But that doesn't mean I should let the two lives I have already created be destroyed or sit in a freezer until the end of time."
According to Vergara, Loeb signed legal papers as part of their agreement and has no legal standing.
"If it was so serious to him, this issue, which I totally respect because it's serious, then you should've taken it more seriously at the time. There is a contract. He can't do anything," she said. "We did it two times. You make the mistake the first time. Two times? And now you want to change your mind?!... You have to follow what you sign."
Like us on Facebook
Follow us on Twitter & Instagram