'Shipwreck Men' star said show interfered with his boat towing business at first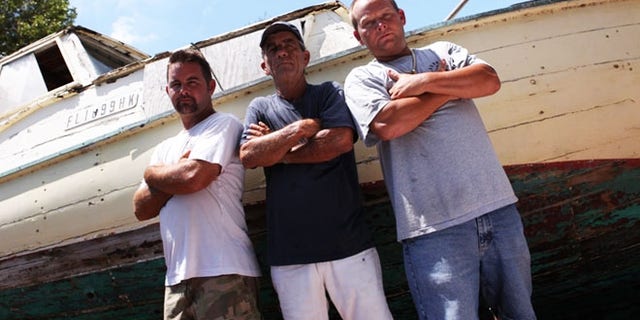 NEWYou can now listen to Fox News articles!
LOS ANGELES – Have you ever seen the way tow trucks race to the scene of a car crash? The first one on the scene gets the job. Well, it happens out in the ocean too. And the earning potential is pretty appealing.
The Discovery Channel is currently making waves – literally – with its real-life; modern day pirate and marine salvage series "Shipwreck Men," starring four different companies who patrol the coast of southern Florida seeking out boats in distress. But whenever there is money to made, regardless of how good one's intentions may be, the competition to be first on the scene and thus reap the benefits is cutthroat.
For Arnold's Towing, it's a family affair as they go up against the expertise of salvage pioneer Stu Korpela at Atlantis Marine Towing & Salvage, self-taught salvage operator Ryan Sewell of Downright Marine Towing and 28-year-old Chuck Hansen of Fast Response Marine Towing.
"I am the little brother, Ricky is the little brother and the old man is the old man. We know our jobs and positions and just do it," Arnold's Towing star employee Shane told FOX411's Pop Tarts column. "Filming the show was difficult though, it took us a little longer to do what we do. What usually takes a few hours took a lot longer, like in situations when we had to wait for them (the crew) to get in the right position and set up for a few seconds."
On that note, his father Ricky Arnold, Sr., is a fifth generation Key West resident who built his business from the ground up. Headstrong and unapologetic, he too took some time getting used to the Hollywood infiltration of lights and cameras.
"I was getting frustrated, if you notice in the show I'm yelling 'Move! Move! Move!' But once we figured out how to do our job around them and once they figured out their job and how to stay away from us it became very easy," he explained.
Such a Hollywood infiltration is a far cry from Ricky Sr.'s life growing up pulling lobster traps and cage fishing with his brothers, which led to diving in and cutting ropes caught in propellers in the dark and lonely seas.
"One thing led to another, and I love the ocean, I have been all over the ocean, and its one of those things you live with here, and the lifestyle for some people grows on them, and we would tow in boats here and there," he continued. "I've loved the occupation of it."
And as the all-new Discovery series exemplifies, there is no love lost between the tow company competitors.
"Other towing companies down here hate us because we can do stuff, we have so much equipment from so many years of doing this business," Shane, who is certainly not bashful, added. "We can do a job that will take someone else two days in a few hours. We are also able to do it for a cheaper rate while the other guys are still working on one job; we can be back home working on our boat."
"Shipwreck Men" is currently airing on Discovery at 9pm ET/PT.
Danielle Jones-Wesley contributed to this report.