Selena Gomez 'seeking treatment' to 'tackle her emotional issues head-on,' source says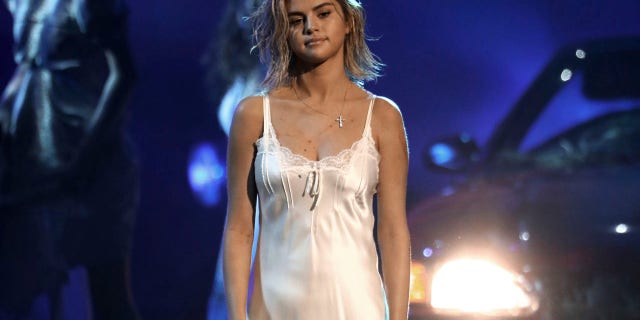 Selena Gomez is seeking treatment at an East Coast facility, Fox News has learned.
A source told us, "Selena has emotional stresses as many other people also do. She has taken it upon herself to tackle her emotional issues head-on and is seeking treatment at an East Coast facility."
The news of Gomez's treatment comes a few weeks after the singer announced that she would be taking a step back from social media.
On Sept. 21, Gomez posted a message on her Instagram saying she was taking a break, alongside a smiling photo of herself which she dubbed "Mood."
"Update: taking a social media break. Again," she captioned the happy image. "As much as I am grateful for the voice that social media gives each of us, I am equally grateful to be able to step back and live my life present to the moment I have been given. Kindness and encouragement only for a bit!"
She added, "Just remember — negative comments can hurt anybody's feelings. Obvi."
The "Same Old Love" singer has been candid about her up-and-down battle with her health.
Gomez first opened up in 2015 about her battle with lupus – an autoimmune disease that causes the system to attack its own organs and tissues – and revealed that she underwent chemotherapy to treat the disease.
In 2017, the singer shocked fans when she announced she had a kidney transplant due to lupus complications and that her best friend, Francia Raisa, donated her kidney.
According to the Lupus Foundation of America, about half of all cases of systemic lupus affect a major organ such as the heart, lung, kidneys or brain.
Both Raisa and Gomez spoke out about the surgery in a 2017 interview with "TODAY."
"My kidneys were just done," Gomez told Savannah Guthrie. "That was it, and I didn't want to ask a single person in my life. The thought of asking someone to do that was really difficult for me. She volunteered and did it. And let alone someone wanting to volunteer, it is incredibly difficult to find a match. The fact that she was a match, I mean that's unbelievable. That's not real."
Both of the stars admitted that the recovery process was tough, but the experience brought them closer.
"I am beyond grateful that God would trust me with something that not only saved a life, but changed mine in the process," Raisa said.