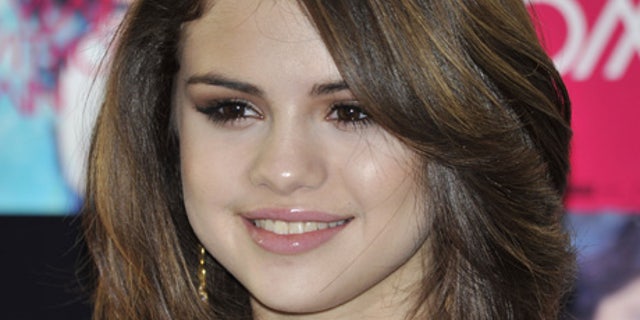 NEWYou can now listen to Fox News articles!
On the heels of Demi Lovato's apparent downward spiral, "Wizards of Waverly Place" star Selena Gómez has received a lot of praise for not falling victim to the pitfalls of fame and following the well-traveled road of many Disney alums (well at least not yet). But is it only a matter of time before someone tries to dig up dirt on the wholesome pop star? Probably—but until that photo/video or secret addiction surfaces, we will have to settle for dissecting her love life.
Though the young star has been linked to Nick Jonas and Taylor Lautner in the past, it seems that there is one gentleman that has been on her radar the whole time: Former Disney star and current Hollywood hottie, Shia LaBeouf.
Since 2008, Gómez has told virtually anyone who's asked about her crush on the "Wall Street 2" star.
Whether it was former Fox morning show co-stars Mike and Juliet ("My crush is Shia LaBeouf. He is cute and a great actor"); MTV News ("I'm like, begging, but it's not happening. I know I'm a nerd! Please, Shia, come on my show!") or the crowd at a St. Jude Children's Research Hospital benefit ("Let Shia know I'm available!"), Gómez has not been shy about her admiration for the 24 year old LaBeouf.
Though the 6-year age difference between the two might be a problem for any potential pairing, Gómez is not letting that little fact keep her from once again claiming just how absolutely dreamy he is.
While promoting the fourth season of "Wizards," the young star was asked which child actor she admired most. Her response? Well, Shia LaBeouf of course! In the recent interview with ET Online, Gómez said:
"For me, the person that I really admire because they came from this Disney world would be Shia LaBeouf....he had his own show on Disney Channel. He was really funny and I loved his show. Then he started to do films. Now he is doing really great films and he is respected as an actor...I really like him a lot as an actor. I think he is cute, too, so that helps. I feel that I can relate to him the most."
Subtle.
Whatever comes of the public confessions of 18-year-old Gómez, one thing is for sure: She is persistent. Though she maintains that her personal life should remain just that—personal—and that she would be interested in pursuing a relationship with a non-celebrity, everyone in Hollywood can benefit from a high-profile hook up now and then. Though Justin Bieber (whom she is reported to be "hanging out" with) is definitely a headline grabber, maybe Shia's 2008 brush with the law and arrest on suspicion of DUI might give her the slight edge that some say the Disney star desperately needs.
Until then, I guess we can keep looking for that secret videotape.
Follow us on twitter.com/foxnewslatino
Like us at facebook.com/foxnewslatino