Security fears prompt Aerosmith to drop Indonesia concert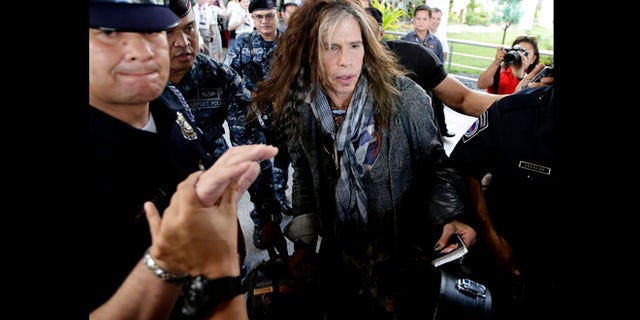 JAKARTA, Indonesia – Aerosmith canceled a show in Indonesia after authorities there said they had foiled a bomb plot targeting the Myanmar Embassy.
Concert promoter Ismaya Live cited safety concerns as the reason for the cancellation, but it wasn't clear if there was a direct connection to the alleged embassy plot.
The American rockers were scheduled to perform this coming Saturday for a nearly sold-out crowd of 15,000 in the capital, Jakarta, said Helmi Sugara, event organizer spokesman.
The statement about the cancellation carried an apology from Aerosmith also saying they hoped to make it up to the fans one day. There was no immediate indication they would reschedule.
Indonesian police said Friday they had arrested two suspected militants and seized bombs the suspects were plotting to use against the Myanmar Embassy in Jakarta to protest Myanmar's treatment of Muslims.
Aerosmith started an Asia-Pacific tour in April with their first-ever concert in New Zealand and several shows in Australia. They're scheduled to play Wednesday in the Philippines.