Scientology member Jenna Elfman gets candid about her relationship with the controversial church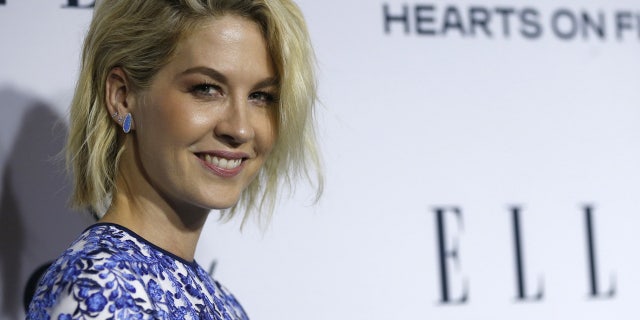 Jenna Elfman isn't afraid to bare all about her lasting relationship with Scientology.
The actress told People magazine's "Chatter" talk show Tuesday she's been a proud Scientologist for 28 years and has learned how to cope with criticism of the religion.
The controversial church, which was developed by L. Ron Hubbard, aims to offer "a complete and certain understanding of one's true spiritual nature and one's relationship to self, family, groups, Mankind, all life forms, the material universe, the spiritual universe and the Supreme Being."
Some of its famous members include actors Tom Cruise and John Travolta, among others.
Elfman, 46, revealed Scientology is the secret behind her lasting marriage and her close bond with sons Story, 11, and Easton, 8, while maintaining a high-profile career. She has been married to actor Bodhi Elfman since 1995.
"Well, I've been a Scientologist for 28 years and that's a huge part of what helps us keep our communication going and our relationship," she explained. "We've never cheated on each other, we've never broken up.
"We hang in there. Raising children, maintain my sanity in a crazy world. Our world is crazy, it's getting crazier, and Hollywood is the ne plus ultra of crazy… [And] I think that anything that works tends to get attacked."
Elfman also revealed that despite misconceptions about the church, it has been "so workable" for her lifestyle.
"I use it every single day of my life and it keeps me energized and vivacious and happy," she said. "I like literally have so much going on. Why am I going to go: 'You know, let me put some negativity in my life. Let me go see who's being a bigot.'
"Why would I search for bigotry in this world when it's the one thing that's been this huge help in my life to keep me sane and to raise great kids?"
Still, Scientology has received public backlash over the years.
In March, church leader David Miscavige's wife, first lady of Scientology Shelly Miscavige, was the subject of a Vanity Fair documentary titled "Vanity Fair Confidential: Scientology's Vanished Queen."
The show, which was a part of the "Vanity Fair Confidential" series, was based on the March 2015 exposé by the magazine that delved questioned what happened to Shelly, who allegedly disappeared in 2007.
Church representatives have called Vanity Fair's questions on Shelly "ludicrous and offensive."
In December 2016, former Scientology member Leah Remini raised the explosive topic of Shelly's whereabouts in a special episode of her A&E series, "Scientology and the Aftermath."
The former "King of Queens" actress left the Church of Scientology in 2013 after having been a member since childhood.
Remini, who was so alarmed by Shelly's disappearance that she questioned guests at Cruise's 2006 wedding to Katie Holmes, reportedly outraged Scientology members.
Shelly is allegedly a close friend of Cruise's, the church's most famous member.
In 2013, Remini filed a missing report regarding Shelly with the Los Angeles Police Department. It's been reported that detectives closed the missing person case after saying they had met with Shelly in person.
Still, Remini continues to wonder about the well-being of the Scientology boss' wife.
On her A&E episode, ex-Scientologist member Mike Rinder claimed that for a long time Shelly was at a property the church owned near Lake Arrowhead in California.
"She was sent there when she displeased David Miscavige," claimed Rinder. "Shelly was privy to everything that went on with Dave."
Remini responded, "Which is why I filed my police report. Which, by the way, I'm still following up on because there are still answers that I need. I do not know that she is alive. I do not know that she's not being held against her will."
As the show noted, the church has stated the police report was filed in bad faith — and Scientologists have also challenged the credibility of Remini and all the contributors to her series.
In fact, the church has said on a website it launched to slam her claims, "Leah Remini's 'reality show'.... is nothing more than a scripted, rehearsed, acted and dramatized work of fiction. She and the other anti-Scientologists in her program have been expelled from the church for unethical conduct."