Scandalous Split: Martina Navratilova Sued By Lesbian Lover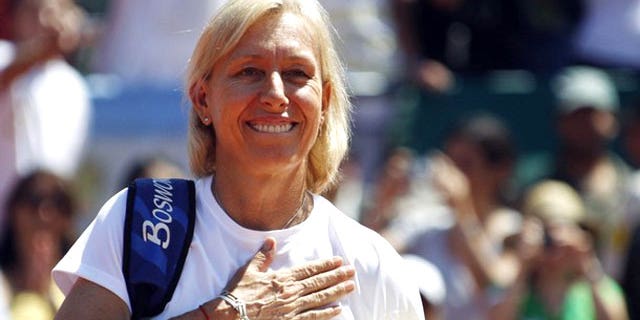 LOS ANGELES – After eight years together, it seems the ruptured romance between tennis-great Martina Navratilova and her lover and business partner Toni Layton is getting uglier by the second. Earlier this year Layton filed a lawsuit in Sarasota, Florida against Navratilova who she claims unexpectedly dumped her and left her with nothing.
In 2000, the pair struck up a "personal friendship" and soon after executed an unofficial wedding ceremony in which they allegedly agreed to share all assets earned and obtained while in a relationship. In 2002, Layton was appointed grantor and trustee of her "wife's" estate.
But according to court documents, Navratilova alleges that in 2007, she discovered that Layton was using and "abusing" her power for "improper purposes" and was removed from the position in 2008. Navratilova also claims Layton was also engaging in contract "breaches" and "unauthorized actions."
Now, Layton is striking back.
"Nine years ago in their promise ceremony they agreed to share their lives, careers and the fruits of their business relationship," Layton's attorney, Ray Rafool, told Tarts. "Martina cooked up the claim that Toni abused the trustee position. We're suing for well over a million dollars but we're still trying to determine the value of the assets and they (Navratilova's counsel) are doing everything they can do to stop us find the truth."
But according to Vincent Carissimi from Navratilova's legal counsel, Layton's claims are baseless.
"We've stated very clearly in our court papers that we believe Ms. Layton's claims are totally meritless, and we've stated in the counter claim that we filed on behalf of Ms. Navratilova that in fact, we think it's Ms. Layton who owes money to Ms. Navratilova," he said. "So our position is pretty clearly set forth in those papers and I'm not inclined as I said, to do anything but try this in court where it belongs."
Speaking of which, Rafool said that attempts to resolve the situation in mediation last month failed, and all settlement discussions last week reached no conclusion. Rafool said the matter will push forward with depositions being scheduled for next month.
"Martina is a gay and lesbian hypocrite. She says she is a big advocate for gay and lesbian rights, but only when it's convenient. If she was in a heterosexual marriage she would have so much more to deal with this, but she's trying to get out of it," Rafool continued.
However, Navratilova's legal counsel argued such a statement.
"Nothing could be more untrue and the fact that they're making those kind of allegations, I think speaks volumes as to the strength of their legal case and it demonstrates their acknowledgement that the only way they can successfully obtain something from this case is to try to slur Ms. Navratilova," Carissimi said. "I think that's unfortunate and we won't be making any comments about Ms. Layton."
The tennis champ has also filed motions for protective orders to prevent any information from being disclosed to the media and prevent the media from appearing at all depositions. Layton in response filed a motion to compel her rights to information and to prevent Martina's trampling of the press' freedom under the First Amendment.
"In reality Martina just does not want to give us the information we are entitled to value her assets, our interest in the Rainbow Card and to sue her accordingly," Rafool claimed. "Really, Martina does not want her image tarnished or ruin her chances of earning big as a sportscaster. They are doing everything they can to stop the truth about the real Martina coming out."
And Carissimi is certainly less than impressed that information has been filtered to the press.
"It's unfortunate that the parties have made an effort to resolve it and those efforts have not succeeded," he added. "So we stated in our papers, the outcome should be that Ms. Layton's claims are found to be unsupported which we have every confidence they will be and that Ms. Navratilova will in fact prevail on her counter claims."