'Saturday Night Live' cast exodus just latest crisis at NBC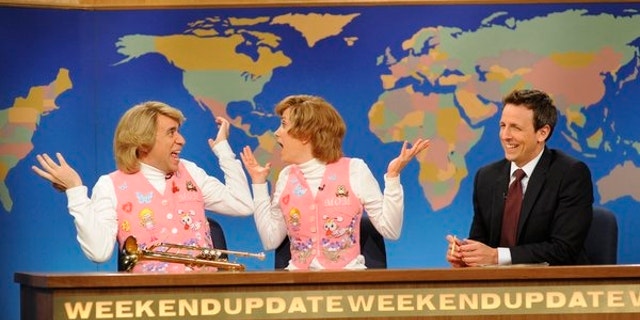 It hasn't exactly been a smooth year for NBC. And now it may get even rougher.
After the Ann Curry firing fallout, Matt Lauer's popularity plunge, and the "Tonight Show" host roast Part 2, the network now finds itself scurrying to prop up the long-running "Saturday Night Live."
Last weekend, "SNL" staple Bill Hader bid farewell to the late night television sketch comedy show after eight seasons. Head writer and "Weekend Update" anchor Seth Meyers also announced his exit to take over Jimmy Fallon's late-night NBC show.
Not only that, the New York Post reports that Jason Sudeikis, too, is ready to make his way out of the show's revolving door, (although so far he has only said that he is "undecided"), and Fred Armisen is also reportedly moving on.
And these defections come a year after even bigger stars Kristen Wiig and Andy Samberg bid the show adieu.
Which leaves the "SNL" its bench of not-quite household names, such as Aidy Bryant, Taran Killam, Kate McKinnon, Kenan Thompson, Cecily Strong, Vanessa Bayer, Bobby Moynihan, Nasim Pedrad, Tim Robinson and Jay Pharaoah.
Who?
Exactly.
"The mass defections could leave 'SNL' in serious disarray," Hollywood pop culture and entertainment expert Scott Huver told FOX411's Pop Tarts column. "But the timing seems right with all of the expected exits. Each of the performers has more than proven their versatility during their tenures on the show, and they've all been effectively utilized away from 'SNL'. No one wants to look like they've stayed at the party too long."
According to a source closely connected to the show, it was simply these players' time.
"Actors work very hard on the show, and therefore don't have the time to commit to doing more money-making deals, so they leave," explained the insider. "Most of the cast leaves for movies and to set up permanently in L.A. Maya (Rudolph) left as she's in Los Angeles, as did Molly Shannon, Amy Poehler and Andy Samberg got some big opportunities. Bill Hader also got movies, and of course Kristen Wiig is making big money in film, too."
Some are even starting to wonder whether producer Michaels, at age 68, might also be ready to retire from the show he brought to life in1975, especially now that he'll be running the "Tonight Show" with "SNL" alum Jimmy Fallon in New York.
But despite all the cast comings and goings, ratings for the NBC variety program have remained relatively solid over the years. Its recent season finale topped its time slot, and over the course of the year "SNL" managed – in unprecedented fashion – to occasionally trump its network's prime time players. For example, the March 17 episode hosted by Justin Timberlake attracted a much greater viewership than anything aired that same week in prime time, attracting 8.4 million viewers and becoming NBC's most watched show for 2013.
"SNL" also continued to attract A-list guest hosts – from Mick Jagger and Jennifer Lawrence, to Justin Bieber, Jamie Foxx and Ben Affleck. But will the remaining, relatively low-profile comedians continue to draw Hollywood superstars and big laughs next seasons?
"'SNL' was watchable this season – but barely, thanks to Hader, Armisen and Sudeikis. Next fall, I expect to see some new faces, we'll get to see more of Kenan Thompson, Vanessa Bayer and Bobby Moynihan," comedian and actress Moxie Cathedra said. "It seems the problem isn't how many of the cast's stars are leaving, but more the show's own process of grooming and letting talent break out. Many stars seem underutilized."
Perhaps it's time for NBC to search outside the lines to keep "SNL" alive and thriving.
"The network needs to look for truly unique, original comedy talents rather than try to find people to fill specific niches – a 'Chris Farley type' or 'the next Amy Poehler.' And I think the show would be wise to recruit its new talents from places other than the traditional improve stages and standup clubs – to really scour the latest, most cutting-edge, even dangerous frontiers in comedy," Huver observed. "'SNL' could come roaring back with a troupe of untested, hungry newbies."
This isn't the first mass exodus the show has had to endure. In 1995 Chris Farley, Adam Sandler, Kevin Nealon, Jay Mohr and Chris Elliott concluded their contracts, just as Phil Hartman and Rob Schneider had done the previous season. But when Will Ferrell, Cheri Oteri and Darrell Hammond came on board, American audiences kept watching.
"Even if 'SNL' loses Armisen and Sudeikis along with Meyers and Hader, it's in no danger. It has its ups and downs, but Lorne Michaels has made the show the best incubator for talent since vaudeville," Tim Molloy, TV editor at entertainment trade TheWrap.com told us. "Bear in mind, people used to wonder if the show could go on without Bill Murray and Dan Aykroyd. And a couple of years later we got Eddie Murphy."
And according to Armisen himself, you don't really get to split, even when you've officially walked away.
"I feel like everyone on 'SNL' comes back. No one ever leaves," he told the crowd at a surprise appearance at Internet Week New York last Wednesday. "In a way I will always kind of be on, we all stay there… I love every minute there."
NBC did not respond to a request for comment.