Sarah Ferguson's royal wedding hat compared to 'Harry Potter' golden snitch on Twitter
Princess Eugenie's mother, Sarah Ferguson, turned heads on her daughter's wedding day for wearing an emerald hat with a golden ribbon that had many Twitter users comparing it to the golden snitch from "Harry Potter."
The mother of the bride sported an emerald wrap dress which matched her daughter's emerald wedding tiara and earring ensemble but it was the golden detail of her accessory that had the internet buzzing.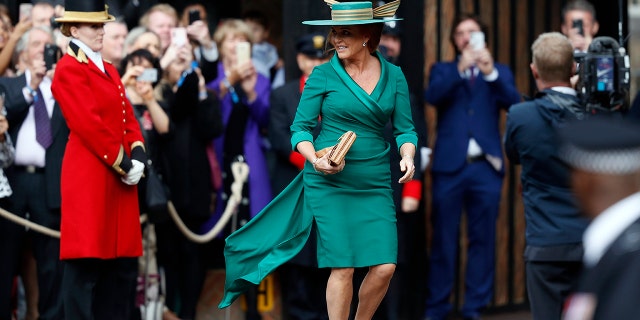 The bold hat design, which featured a gold band and two ties jetting out on the sides became the accessory of the day at the Windsor Castle affair on Friday as the hat was quickly compared to the wings of the golden snitch, the flying, golden ball used during the fictional game of Quidditch in J.K. Rowling's famous "Harry Potter" novels.
While most people compared the hat to the golden snitch, others noted the hat's resemblance to Yoda's ears and Wonder Woman's emblem.
Fergie's daughter married Jack Brooksbank in a gusty, fall ceremony on St. George's Chapel on the grounds of Windsor Castle several months after her first cousin, Prince Harry married American actress Meghan Markle in the same place.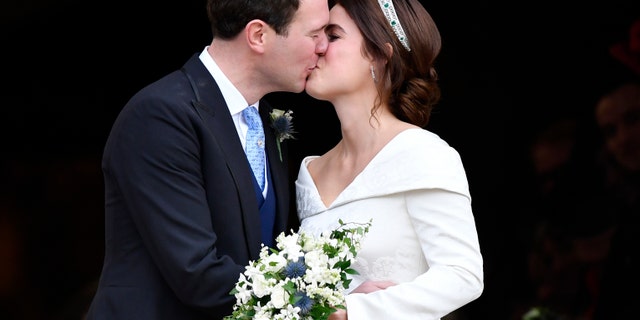 Eugenie, who is the granddaughter of Queen Elizabeth II and is ninth in line to the British throne donned a custom gown by British designer Peter Pilotto and was walked into the chapel by her father, Prince Andrew, Duke of York.
The queen and her husband, Prince Philip, attended the wedding, along with Prince Charles, Prince Harry and Meghan Markle, and Prince William and his wife Kate, the Duchess of Cambridge.
The royal wedding was also attended by celebrities such as Demi Moore, Cara Delevinhgne, Liv Tyler and Ellie Goulding.
The Associated Press contributed to this report.