Ryan Phillippe and girlfriend snapped getting IV vitamins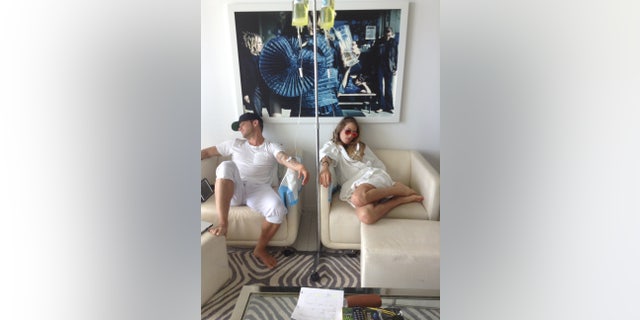 After lots of reported partying in Miami, Ryan Phillippe and his girlfriend Paulina Slagter refreshed their bodies with a controversial intravenous medical treatment.
The duo was snapped hooked up to IVs filled with vitamins. A source told FOX411 the pair stopped by VitaSquad, a mobile IV nutrition service, to "get a quick boost."
"Medical Cocktail" IVs have become popular recently among reality stars and some celebrities. The trend is particularly popular in Miami. Last October, Bravo aired scenes of cast members from "The Real Housewives of Miami" getting IV treatments ahead of Adriana de Moura's wedding.
Stars tend to opt for the controversial treatment-- which is generally reserved for people who lack certain nutrients-- because they believe it's preferable to have their vitamins infused directly into their blood streams.
Some stars, like Rihanna, have tweeted photos hooked up to IV bags to combat hangovers.
Phillippe and Slagter may have needed the boost after all their recent late nights in Miami.
The pair, who have reportedly been linked since December 2011, were spotted getting cozy at Hyde Beach at SLS South Beach on Friday, drinking Don Julio on the rocks.
According to Us Weekly, Phillippe and his younger hottie were also spotted out clubbing in Miami last week, drinking Patron and dancing.
"They were inseparable and kissing throughout the night," an onlooker told Us Weekly.