Rupert Grint talks moving on from Harry Potter, wants Ed Sheeran as his long-lost brother on 'Snatch'
NEWYou can now listen to Fox News articles!
Rupert Grint is still best recognized for portraying Hogwarts student Ron Weasley in the Harry Potter film franchise, but these days he's having fun playing a British bad boy.
The 30-year-old recently kicked off Season 2 of "Snatch," a series on streaming service Sony Crackle that explores how a group of up-and-coming hustlers are suddenly thrust into the high stakes world of organized crime.
CAN 'HARRY POTTER' STAR DANIEL RADCLIFFE BRING WIZARDRY TO NEW FILM 'CIRCUS KID'?
The show is inspired by Guy Ritchie's 2000 film also titled "Snatch," which starred Jason Statham, Brad Pitt and Benicio Del Toro.
Grint, who also serves as executive producer, appears in the series as dapper Charlie Cavendish, who can't resist his craving for crime.
"I'm really enjoying it," the English star told Fox News. "It's quite fun. I think Potter ended at kind of the right time, as much as I loved it. … I was just very ready to explore new characters, I think.
"I love that particularly in TV… you have the time to really carve out [your character]. Really get to know your character throughout a series. That's something that's really exciting to me at the moment."
Grint said he's so happily immersing himself in his new role that he wouldn't mind having one person, in particular, to join him for the ride — Ed Sheeran.
Back in 2017, Grint told James Corden on "The Late Late Show" he often gets confused for the 27-year-old singer/songwriter, who is also British and a redhead. Grint even joked that Sheeran is a character he made up.
The pop superstar made a guest appearance on Season 7 of HBO's "Game of Thrones" in July of that same year.
Grint said he would be open to having Sheeran appear on "Snatch" as his long-lost brother.
"That'd be ace," he said. "He's a great guy, and that'd be interesting. Definitely. I've never really seen the resemblance myself. I know we have similar hair, but I think that's… Actually, he has a very different kind of tone of ginger, I think."
Grint went on to describe some of the challenges of playing Charlie this season, which was filmed in Spain.
"It was quite hot," he shared. "And Charlie, my character, he wears a lot of three-piece suits… That was a little less practical thing to wear in Spain. … I had to dance in a scene. … That's something I struggle with. I actually had to Youtube 'How to Dance' and the results weren't particularly great."
Muggles everywhere may be shocked to learn that Grint isn't sure whether he misses playing Weasley, a life-changing role he earned at age 11. He starred alongside Daniel Radcliffe and Emma Watson in eight Harry Potter movies between 2001 and 2011.
"I don't know," he said. "Because it was a long time and during that period I think we kind of merged into the same person, so there's a lot of Ron in me, and a lot of Rupert in Ron. So I never feel that far away from him."
However, Grint added he felt strange watching another actor play Ron in a recent musical adaptation.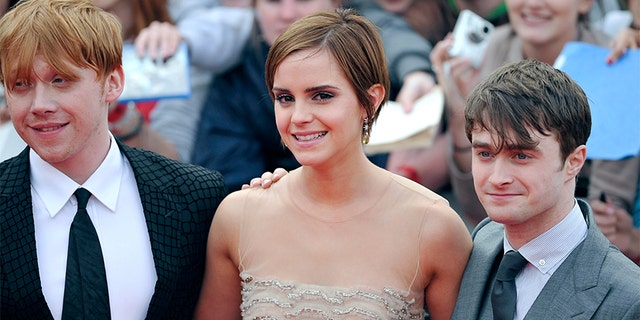 "It was a strange experience," he said. "Like a bit of an out of body experience ... I had a great time and it will always be a special part of my life. But it's great to come to 'Snatch,' which is something completely different, a completely different species."
Grint also shared that as executive producer he has the opportunity to explore a completely different role behind the camera, one that he could envision himself diving into more.
"My role as producer is something that I could probably step into a bit more," he explained. "It's something I've always been interested in. I didn't really throw my weight around and get all producer-y on everyone, but it was really nice to see that perspective, the inner workings and just have the opportunity to be involved in that capacity."