Rose McGowan: 'I was the architect' of Harvey Weinstein's downfall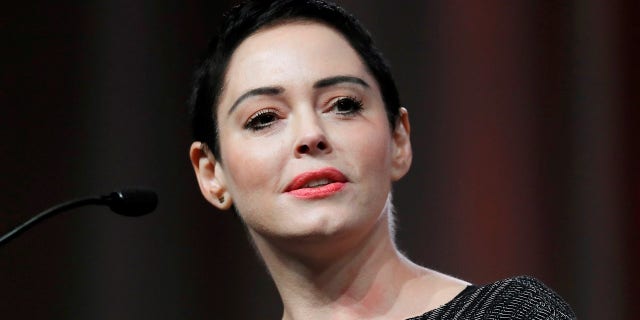 NEWYou can now listen to Fox News articles!
Rose McGowan appeared on "The Late Show with Stephen Colbert" Wednesday night and said she was "the architect" of Harvey Weinstein's downfall after a slew of sexual misconduct allegations emerged against the once famed Hollywood figure.
Colbert began talking about six months prior before the New York Times report that detailed Weinstein's alleged sexual misconduct when the 44-year-old actress interjected.
"Mine was a year ago, I was the architect," McGowan said. "But I didn't talk … I wanted them to have a voice."
The host then mentioned reports about Weinstein hiring an "army" of investigators that reportedly included former Mossad agents to follow his accusers. Colbert asked if McGowan was ever called "crazy" for making allegations against the producer.
"No. I always knew it was everybody else. No, I see things," she responded.
ROSE MCGOWAN BLASTS JUSTIN TIMBERLAKE, OPENS UP ABOUT HER MERYL STREEP RANT
McGowan also said men in society have been "gaslighting" women "since the dawn of time." She touched upon several topics, including her recent trip to India.
McGowan was one of the most vocal actresses speaking out against Weinstein, accusing the producer of raping her. Weinstein's attorney issued a statement on Tuesday that McGowan's comments and appearances were an attempt to "smear" the producer and dismissed them as a "bold lie." Weinstein pointed to an email allegedly written by Ben Affleck to shut down the actresses' 1997 sexual assault claim.
McGowan responded the next day with a statement saying Weinstein's statement was a "sad, pathetic old-fashioned sexist attempt to undermine obvious truth."
"It is an affront not only to Rose but to the hundreds of women who have come forward with their stories of harassment, sexual abuse and rape perpetrated by Mr. Weinstein and those like him," the statement read.
ROSE MCGOWAN GIVES IMPASSIONED RESPONSE TO HARVEY WEINSTEIN'S RAPE DENIAL
McGowan also took to Twitter Thursday to thank Colbert and shut down critics who picked apart her appearance on the show.
"1) I had fun (as much as one can have in this alternate reality) on the @colbertlateshow any press framing it as 'bizarre' I just have a different personality than you. I don't follow protocol. And I will talk about WHAT I WANT. I requested a Dick Cavett free form hangout," she tweeted.
"2) I am bored of formats and questions. I am done with traditional structure. If you're not with the fake tradition of traditional promotional 'appearances' then by all means, stay in your square, but DO NOT APPLY TO ME," she added.