Rory Feek says daughter Indiana keeps Joey laughing as condition worsens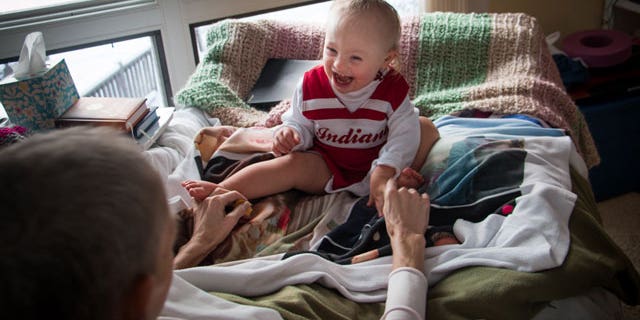 As Joey Feek's condition declines, she's finding joy in the smile of her young daughter, Indiana.
Joey's husband and musical partner, Rory Feek, shared an update on his cancer-stricken wife's health on Thursday, where he opened up about the positive emotional effect the couple's 22-month-old daughter is having on his ailing wife.
WATCH: Jory Feek Posts Heartwarming Photo of Joey Reading to Their Daughter Indiana
"I sat Indy on Joey's bed so she could spend a few minutes with her mama. Joey had had some tough days and the decline of her condition was weighing heavy on her and all of our minds," Rory, 49, wrote. "But in a matter of minutes, Indy had her mama laughing out loud."
Rory also shared a few photos of his 40-year-old wife playing with their little girl, who was born with Down syndrome. In the pics, Indiana is wearing a new outfit her dad bought for her, as "she has grown out of most of her clothes" and the weather is "getting colder" since Joey entered hospice care at the family's home in Alexandria, Indiana.