Rock in Rio USA headlined by Metallica, Bruno Mars, Taylor Swift arrives in Vegas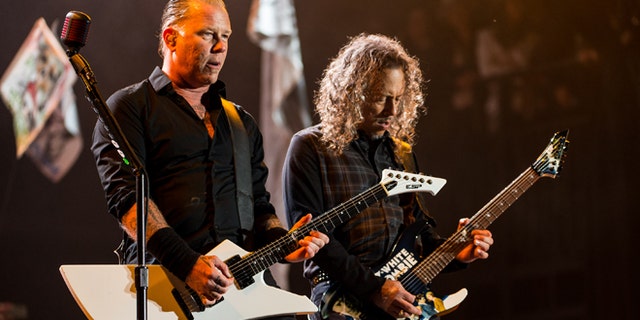 LAS VEGAS (AP) – A music festival replete with a Ferris wheel, multiple stages and top entertainment is coming to the Las Vegas Strip.
This southwestern mecca of entertainment is offering even more talent starting Friday with the two-weekend Rock in Rio USA music festival headlined by Metallica, Taylor Swift, No Doubt and Bruno Mars.
The 37-acre site of the event across from the former Sahara (now SLS Las Vegas) has a zip-line, the Ferris wheel and stages, and an area mirroring global streets as a backdrop for magicians, cartoonists, and fortune tellers.
"It becomes more a theme park of music," said Rock in Rio vice president Roberta Medina, the daughter of Roberto Medina who started the Rock in Rio brand of festivals.
Rock in Rio USA is the latest to join an expanding music festival scene in the United States.
In Las Vegas, festivals have become a regular feature: the Electric Daisy Carnival has been attracting electronic music fans for 19 years; the Route 91 Harvest Festival filled a lot across from the Luxor with country music stars last fall and returns in October; Life is Beautiful has been turning downtown Las Vegas into a celebration of art and music; and Swift appeared at the iHeartRadio music festival last year.
As the festival scene grows more cluttered, Rock in Rio USA will need to set itself apart, said Gary Bongiovanni, president and editor-in-chief of the concert industry trade publication Pollstar.
It has a strong lineup, but no one will know until after the two weekends if it resonated with fans, he said.
"At some point we're going to reach saturation," he said.
Officials say that the transformation of the Las Vegas Strip lot into a festival site has cost about $75 million including the $20 million cost land-owner MGM Resorts spent with partners Cirque du Soleil and The Yucaipa Companies to install plumbing and electricity to ready it for other events promising comforts not normally associated with such outdoor events.
Organizers have promised real restrooms and fake grass, no dust or dirt.
And there is no place for parking with organizers urging festival-goers to find other means of transport to the site.
Medina said about 130,000 tickets had been sold between the two weekends, "pretty good," especially considering it's the brand's first jaunt in the United States after hosting Rock in Rio in Brazil.
Medina said festival organizers met with Cirque du Soleil officials three years ago to discuss teaming up and all agreed an event had to be staged in Las Vegas.
"And here we are," she said Thursday.
The festival starts Friday and Saturday with headliners No Doubt and Metallica, returning May 15 and 16 with Taylor Swift and Bruno Mars.
Tickets cost $169 each day or $298 for each weekend.