Report: 'Bachelorette' star Emily Maynard caught sexting with another man by TV fiance, Jef Holm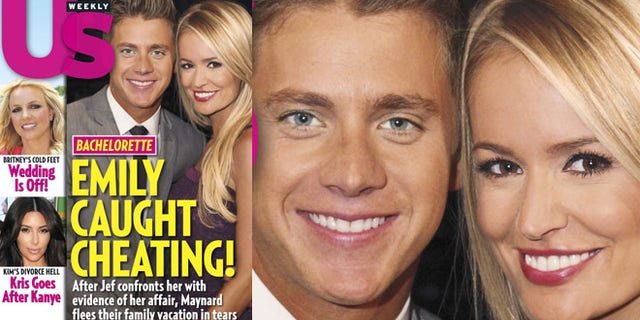 Another 'Bachelor' romance has bitten the dust, at least if you believe US Weekly.
The tabloid that broke the Kristen Stewart/Rupert Sanders affair is back with another, albeit slightly less explosive, bombshell.
They say 'Bachelorette' star Emily Maynard was caught cheating on the guy she just chose to spend the rest of her life with, Jef Holm.
[pullquote]
Will true TV love never prevail?
Holm found explicit text messages and photos on Maynard's cellphone that were not from him, the magazine reports. "There were texts and pictures: 'Let's do this and that with each other,' " a source was quoted as saying.
Not only that, the bad scene all went down at a vacation rental where Holm had taken Maynard to meet his extended family.
"Jef and Emily went into a bedroom and were yelling. He said, 'You've been f**king cheating on me for months!'" the source is quoted as saying, before telling Maynard to "'Pack your s**t and get the f**k out.'"
Holm, 28, was the lucky guy Maynard, 26, picked to be her hubby in July on the popular reality show.
"I feel like Jef would make the best husband and the best stepdad ever," Maynard said way back when.
Maynard has a daughter with her late fiance, the racecar driver Ricky Hendrick.