'Purge' movie poster features hat just like Trump's 'Make America Great Again' cap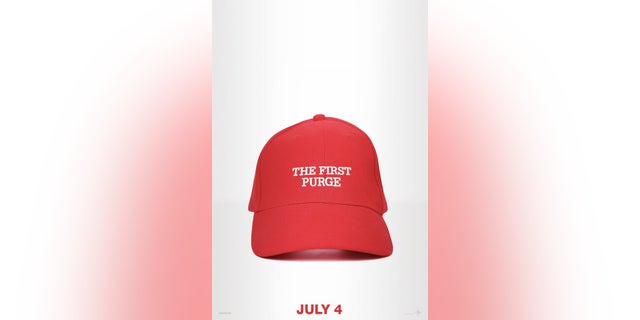 A promotional poster released Tuesday for the upcoming movie "The First Purge" features a cap inspired by the "Make America Great Again" baseball hat made popular during President Trump's 2016 presidential campaign.
The poster for the sci-fi/horror film shows a red baseball cap with "The First Purge" written across the hat in similar font and fashion to Trump's iconic headwear.
STORMY DANIELS COY ABOUT WHETHER SHE REALLY SIGNED DENIAL STATEMENT ON TRUMP AFFAIR
The movie, which is the third installment of the "The Purge" horror series, is a prequel to its predecessors, according to IMDB. "The Purge" is set in a dystopian future in the U.S. where one day a year crime is legal.
The synposis of the film, according to its site, reads, "To push the crime rate below one percent for the rest of the year, the New Founding Fathers of America (NFFA) test a sociological theory that vents aggression for one night in one isolated community. But when the violence of oppressors meets the rage of the marginalized, the contagion will explode from the trial-city borders and spread across the nation."
HOWARD STERN SIDES WITH FELLOW RADIO HOST IN FEUD WITH TOM BRADY
The first promotional video for the film featured pictures of the U.S. flag, landmarks and Washington, D.C.
A voiceover echoes, "What makes America great? The answer is simple Americans make American great. You are the lifeblood of the nation and your rights as Americans must be safeguarded. There is only one solution to keep our country great, a new solution. Participate today and nothing will make you prouder than when your boy looks up at you and says, 'Dad, I wanna purge, too.'"
This was not the first time "The Purge" series has referenced Trump.
"The Purge: Election Year," which was released during the presidential campaign season in July 2016, had a promotional poster that read "Keep America Great" -- a play on Trump's campaign slogan of "Make America Great Again."
"The First Purge" is slated to be released on July 4, 2018.