Puppy Bowl XIV: How to watch and what to know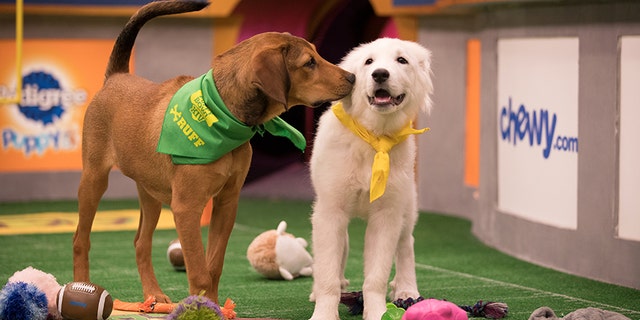 NEWYou can now listen to Fox News articles!
Super Bowl LII won't be the only game taking place this weekend.
Viewers can expect to see some not-so-ruff competition during Puppy Bowl XIV on Sunday afternoon. Read on for a look at Puppy Bowl XIV and details on how you can watch the action.
What is the Puppy Bowl?
Essentially, puppies play around in a space designed to look like a stadium.
This year, a press release for the event is promising "an epic matchup between adoptable puppy players from #TeamRuff and #TeamFluff who go paw to paw and nose to nose" for a trophy.
A touchdown occurs if one of the pooches gets a toy to an end zone.
Viewers can also expect to see veteran Puppy Bowl referee Dan Schachner this year.
"On set, you're the gatekeeper," Schachner told For the Win ahead of the Puppy Bowl XIV premiere. "You're maintaining order among the chaos. There are 12 dogs around you, you're trying to find out they're being safe, you're the first line of defense. Then it's about getting them inspired to run a ball into the end zone. They can run or kick a toy into any end zone, the rules are pretty loose."
When is Puppy Bowl XIV?
You can catch the game -- which is taped in advance -- at 3 p.m. ET on Feb. 4 on Animal Planet.
What should I know about the purr-formances?
A chicken named Jokgu is slated to perform a keyboard rendition of the national anthem, the press release says. Kittens will also be featured as part of a halftime program.
What else should I know?
You can check out the Puppy Bowl XIV starting lineups and backup puppies on AnimalPlanet.com.