Project Kate-way: The Fight to Design Kate Middleton's Wedding Dress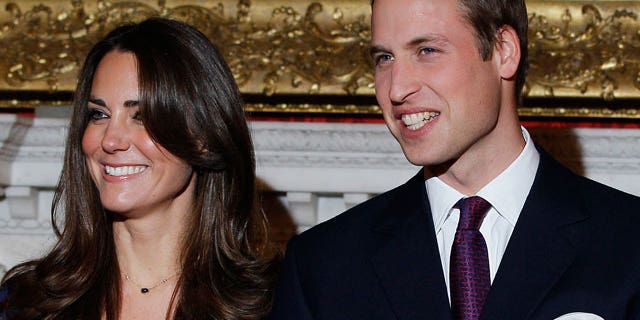 As soon as the royal engagement between Prince William and longtime love Kate Middleton was announced, a firestorm of speculation surrounding Kate's potential wedding dress designer ignited.
And for good reason.
Fashion insiders tell FOX411.com that landing this gig will place one lucky designer at the top of the fashion food chain.
"The value of having your gown seen on a celebrity or high-profile political figure is immense and designers will do whatever it takes to have their gowns seen on these big names," said wedding expert and founder of 4PM Events Tatiana Byron.
The first order of business is to make sure Kate receives and sketches and samples. Sending them to her by mail could work; after all, Michelle Obama selected her gown for the Inauguration Ball from sketches that had been sent to her stylist. However, with designers from around the world sending Middleton couture sketches, many will likely take it up a few notches to avoid getting lost in the shuffle.
"In the world of celebrity weddings, gifting is often involved," Byron explained. "We've heard stories of gown designers sending 'engagement gifts' of everything from Louis Vuitton luggage to Cartier earrings with hand-written notes congratulating the bride. We've additionally heard of designers who include sketches with these luxury gifts to ensure the high-profile bride actually receives the design.
"Even if the gift does not directly result in the celebrity using the designer for her wedding, celebrity gifting does work as the recipients will often end up using the designer at other events."
WE TV and Wedding Central expert Diann Valentine said designers may also invite Middleton to a private meeting at their showroom and pick up all expenses to do so, including a private plane and accommodations for assistants, handlers -- even mom.
To gain even more of an advantage, Valentine said designers could even go so far as to "defer all costs for the production of the dress and any additional dresses that may be worn for the various celebrations or offer to design all the wedding attire, including the groom, ladies in waiting, parents, children and so on."
However, before even approaching Kate, designers are best advised to study up on British royal culture. "Kate will look to history books and to past royal weddings to see what is appropriate and expected for a royal bride," Byron said. "She will take traditional elements and use them for guidance and inspiration as she makes her final choice"
Who you know can also go a long way in the world of fashion. Nearly every high-profile figure has some designer pals, and celebrity stylist Phillip Bloch believes that Kate's personal relationships will play a significant role in her decision.
Valentine also emphasizes the importance of a personal relationship with the princess-to-be and encourages designers hoping for a shot to go through their Rolodex and try to find someone they can speed dial for a direct introduction.
However, one expert says any behind-the-scenes jockeying maybe all for naught.
"I've not heard a single story about designers courting Kate," Julie Raimondi, editor-in-chief of Brides.com told FOX411.com. "There's really nothing a designer can do to increase their chances of designing Kate Middleton's dress. This isn't about PR or marketing. Or even a perfect design."
Being English may help. British designers including Phillipa Lepley, Issa and Princess Diana's wedding dress designer Elizabeth Emanuel have been listed as top contenders.
"One of our London-based clients isn't responding to any press requests because they think they're in the running," one fashion publicist said. "Talking to the press can seem like 'campaigning,' which is the biggest thing that can hurt a brand. They want to show that they respect the process and the fact that this is a personal decision for Kate."
Meanwhile, designer Ben de Lisi insists that his rival Bruce Oldfield has already landed the gig, although Oldfield's rep labeled the claims, "just Ben's opinion."
"There are lots of rumors, but I've heard it is Bruce Oldfield," the U.K Telegraph quoted De Lisi as saying. "I'm absolutely certain I won't get chosen; I'm sure I'm not in the running."
Several other fashion publicists echoed these sentiments when we asked to interview their clients. "A single word to the press, even a presumption, could ruin your chance" Valentine explained.
Despite all the courting, gifting and debating, Kate Middleton will, more or less, go through the same process as any bride-to-be.
"It will be like any other girl, you know what you want and she has girlfriends," Bloch said. "This isn't something the Queen mother is going to sit and oversee. I believe they learned a lot from Diana. People are a lot older and a lot wiser, so I think they'll give her more leeway."