Priscilla Presley holds dead dog while protesting dog meat trade with Kim Basinger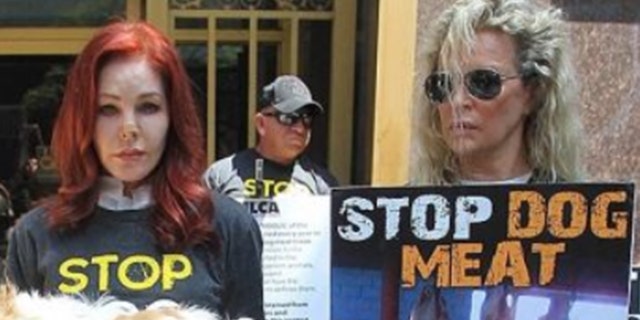 WARNING: Disturbing images below
Priscilla Presley and actress Kim Basinger came together to make a strong statement against the trade of canine meat on Tuesday in Los Angeles.
Elvis' former wife and the "L.A. Confidential" star stood outside the Consulate General of the Republic of Korea dressed in black "stop dog meat" T-shirts worn over white scrubs. And while Basinger chose to hold up a sign with a graphic image of dead dogs in association with the Last Chance For Animals organization, Presley went a step further by holding a dead dog in her arms.
The 73-year-old wore white gloves while holding the dog and appeared to sport a bandage at the tip of her nose during the protest. Actresses E.G. Daily and Donna D'Errico also joined Presley in carrying dead dogs in their arms for the protest.
According to The Blast, the stars took the dogs from a Los Angeles veterinarian and wanted to use them as a strong example of the "type of lovable dogs that are killed and used for consumption in South Korea." The outlet also reported that dogs were "respectfully cremated" after the protest.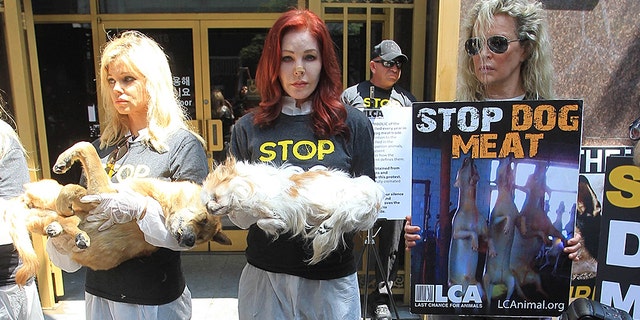 Last Chance For Animals advocates for the end of dog meat trade in countries such as Korea and China. Its website noted that the protest also took place in Washington D.C. outside of the Korean Embassy and in Seoul, Korea, in Gwanghwamun Plaza.
According to the Animal Welfare Institute, South Korea slaughters an estimated 2 million dogs a year for canine meat trade, and Humane Society International estimated that a total of 30 million dogs around the world are killed for human consumption.
Other celebrities have come out against the consumption of dog meat and festivals such as the Yulin Dog Meat festival.
"Real Housewives of Beverly Hills" star Lisa Vanderpump has advocated for the end of the Chinese dog festival through organized protest and international legislation. In 2018, she produced a documentary called "The Road To Yulin And Beyond," which chronicled the process of the Chinese dog meat trade.