Prince Harry will finally stop 'scrounging all my food,' Prince William says
Prince William is glad Meghan Markle will be soon wed Prince Harry because he will finally have a stocked fridge.
William joked on Wednesday to reporters during a visit to a charity on that Prince Harry, when he was single, was "scrounging off" his food for years before falling in love with Markle, according to the Telegraph.
"And for me personally I hope it means [Harry] stays out of my fridge, it will stop him scrounging off all my food, he's done over the last few years," William said.
On a more serious note, the proud brother said the royal family was "all very excited, delighted for [the couple] and wishing them all the happiness in this very exciting time." William added that the newly engaged couple are "very caught up in the moment."
William's wife, Kate Middleton, who is pregnant with her third child, also sang happy praises for the engagement.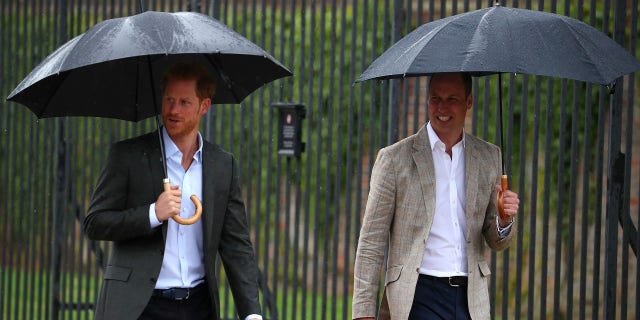 "William and I are absolutely thrilled," Middleton told reporters on Tuesday, according to People. "It's such exciting news. It's a really happy time for any couple and we wish them all the best and hope they enjoy this happy moment."
Kensington Palace announced on Monday Prince Harry and Markle got engaged earlier this month. The wedding is set for May 2018 at St. George's Chapel in Windsor Castle.
MEGHAN MARKLE'S EX-HUSBAND TREVOR ENGELSON: WHO IS HE?
The prince and duchess-to-be, who met in July 2016 after being set up on a blind date, will have their first public engagement on Friday at a charity in Nottingham. Markle said in her first interview with BBC after the engagement announcement that she is retiring from her acting career and is excited to begin her royal duties.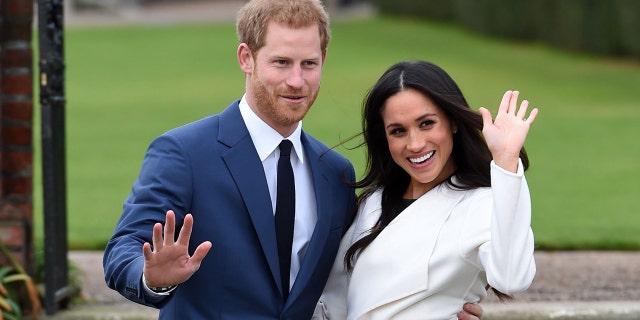 "I don't see it as giving anything up. I see it as a change. It's a new chapter," Markle said in the interview.
Harry recalled falling in love with Markle "so incredibly quickly" and feeling like the "stars were aligned" after a few weeks of dating and a five-day camping trip in Botswana.
MEGHAN MARKLE, PRINCE HARRY TO BE MARRIED AT WINDSOR CASTLE IN MAY, PALACE SAYS
"This beautiful woman just tripped and fell into my life, I fell into her life. I know that she will be unbelievably good at the job part of it as well," Harry said.
The prince designed a dazzling engagement ring for Markle that included two diamonds from late Princess Diana's jewelry collection. The center stone was sourced from Botswana.