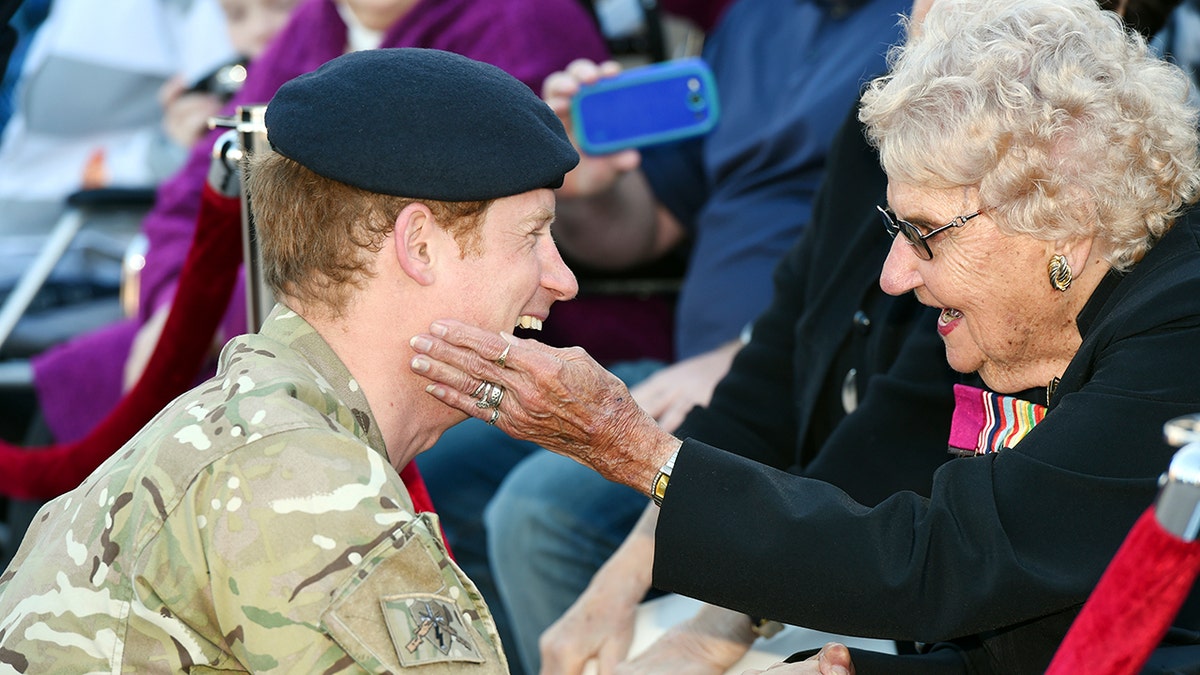 Daphne Dunne, an Australian woman who was famously known to be one of Prince Harry's biggest admirers has died, local reports stated. She was 99.
Dunne died Monday peacefully in her home, the BBC reported. She rose to prominence after being featured in a number of photos when Harry would go visit Australia. A few days ago, Harry and his wife, Meghan Markle, wrote a letter to Dunne wishing her a happy birthday.
"Dear Daphne, my wife and I send our warmest wishes to you on the occasion of your 99th birthday on Friday," the letter from the Duke and Duchess of Sussex read, according to the BBC.
PRINCE HARRY 'BANISHED' FORMER BEST FRIEND FOR WARNING HIM NOT TO MARRY MEGHAN MARKLE: REPORT
Dunne's Instagram account was filled with pictures of her posing with Prince Harry, including one from the royal couple's visit to Australia in 2018.
During this trip, Dunne was one of the people in the crowd Harry and Meghan personally greeted. Markle told Dunne it was a pleasure to meet her and "Harry has told me all about you and your special bond."
Dunne told Markle congratulations on her pregnancy news.
"Congratulations, I think that's marvelous," she told Markle at the time, according to People. "It's just what Harry needs."
MEGHAN MARKLE IS 'A BIT OF A SOCIAL CLIMBER,' SAYS PIERS MORGAN: 'GOOD LUCK TO HARRY'
A source told People the royal couple was "deeply saddened by the news and they are thinking of Daphne's family at this time."
Dunne's first husband died in 1945 while fighting in Papua New Guinea. He was posthumously honored with the Victoria Cross, which Dunne wore when she first met the prince in 2015. Dunne was seen giving Harry a kiss on his cheek during their first encounter.