Plus-size model Tess Holliday graces cover of Cosmopolitan, opens up about her mental health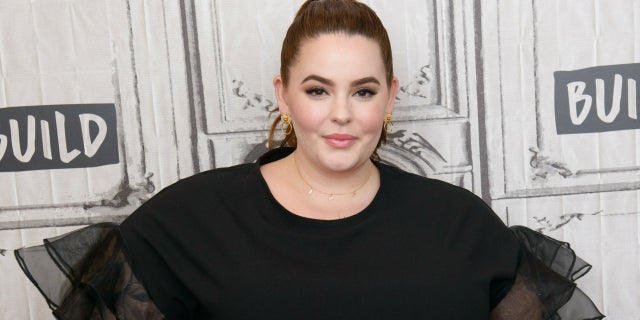 NEWYou can now listen to Fox News articles!
Plus-size model Tess Holliday revealed how she was able to get out of the "worst mental health state of her life" and recalled the time she was sexually assaulted.
Holliday, 33, spoke recently to Cosmopolitan UK about how she struggled from 2017 until the spring of this year.
"I remember very vividly driving in the car with Bowie [her son] and I thought to myself, 'I wish I could just disappear. I wish I could vanish.' It felt at that point like I was causing everyone around me so much pain. It felt like a never-ending black hole. I was so tired of hurting… I just didn't want to be here anymore," Holliday told Cosmopolitan UK.
ALEC BALDWIN EXITS 'JOKER' FILM, SAYS 'THERE ARE 25 GUYS' WHO CAN PLAY THE PART
The model has been an outspoken advocate for body confidence after she created the #effyourbeautystandards campaign on Instagram. The model told the magazine she created the popular hashtag "out of frustration" and to take a stand against negative online commenters.
"I created [the campaign] out of frustration," she said "I was angry and sad that people kept commenting on my pictures saying, 'You're too fat to wear that!' or 'Cover up! No one wants to see that!' And then one night I was lying in bed and thought, 'F--- that!' So I posted an image with four photographs of myself wearing things that fat women are often told we 'can't wear', and encouraged others to do the same."
The model said, in terms of weight, she's at her "heaviest" now than she's ever been before, and said she "wished" she loved herself sooner.
"I was a US size 16 to 18 my entire life before I had Rylee [her son]. I look back on those photos now and I don't wish I was that size, but what I wish is that I loved myself 120 pounds ago.
"I'm at the heaviest I've ever been in my life now and it took me being the heaviest to finally love myself," she continued.
PRINCE HARRY 'KNEW HOW TO SAVE HIMSELF FROM COLLAPSING IN GRIEF' DURING PRINCESS DIANA'S FUNERAL, BOOK CLAIMS
The model also opened up about being sexually assaulted twice by the same person, The Independent reported.
"The first time I went back to his room. I thought he was cute," Holliday said of her attacker. "I was into him, but I didn't want to have sex. He forced himself onto me."
"The first time I let him do it, but I was also told I had no choice. And that's why I didn't realize it was rape. The second time I was in his living room and he started making moves on me. I didn't want it to happen and said no again, but it happened again," she continued.
Holliday has spoken about her sexual assault before in an Instagram post, where she shared her #MeToo story in October 2017.