Plane carrying rapper Post Malone lands safely in New York after blowing 2 tires
A small jet carrying rapper Post Malone has landed safely at New York's Stewart Airport after blowing out two tires during takeoff Tuesday and circling the greater New York City area for nearly four hours.
"i landed guys. thank you for your prayers. can't believe how many people wished death on me on this website. f--- you. but not today," the rapper tweeted.
In a statement to Fox News, the Federal Aviation Administration (FAA) said: "A Gulfstream Aerospace G-IV aircraft landed safely at Stewart International Airport in New Windsor, NY, about 3:50 p.m. today. The aircraft was towed to the ramp." The FAA added that it will be investigating the incident.
TMZ first reported the famed rapper was on board, having spent Monday night at the MTV Video Music Awards, where he took home an award for song of the year for his hit "Rockstar."
The jet carrying 16 people took off from Teterboro Airport near New York City just before 11 a.m. when the pilot reported experiencing trouble.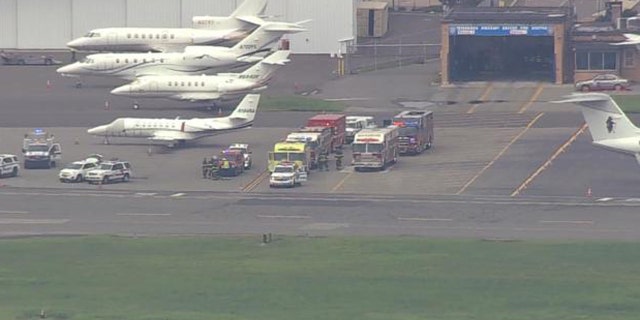 The Federal Aviation Administration told Fox News the aircraft blew two tires as it took off from runway 24 at Teterboro. The jet was heading to London Luton Airport in Luton, England.
Post Malone was scheduled to perform at the Reading and Leeds Festival in England over the weekend, according to his website's tour schedule.
The pilot was going to make an initial attempt to land back at the airport in New Jersey, and officials prepared for the landing by lining a runway with a fire truck and ambulances, according to Fox 5.
The Port Authority of New York and New Jersey, which owns the airport, told Fox News the aircraft then was supposed to be diverted to Westfield-Barnes Regional Airport in Massachusetts. The FAA later told Fox News the plane has been diverted to Stewart Airport, located north of New York City.
Flight-tracking website Flightradar24 showed the aircraft making circles across Northern New Jersey before heading off the Connecticut coast near Bridgeport.
The aircraft had 3,700 gallons of fuel to burn, and continued to circle in order to make a safer emergency landing, according to TMZ.
The face-tattooed singer/rapper took home the song of the year award at the MTV Video Music Awards on Monday night in New York for his hit "Rockstar," featuring 21 Savage. The song is from his latest album, "Beerbongs & Bentleys."
The 23-year-old was joined on stage by rockers Aerosmith and 21 Savage for a wild performance that closed out the awards show.
Fox News' Sasha Savitsky, Tamara Gitt and The Associated Press contributed to this report.