Pierce Brosnan reunites with 'Mrs. Doubtfire' co-stars 25 years later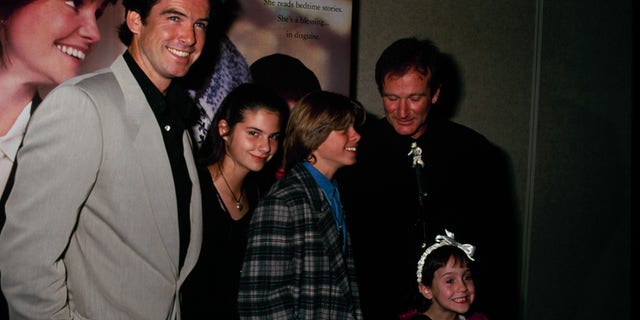 The cast of "Mrs. Doubtfire" had a reunion Wednesday, 25 years since the release of the popular film.
Pierce Brosnan was pictured with former co-stars Matthew Lawrence, Mara Wilson and Lisa Jakub – who played the three Hillard children in the movie – during the rendezvous, and Jakub shared a picture and a video on social media.
"So this just happened. #mrsdoubtfire #reunion #25yearslater," Jakub, 39, wrote both on Twitter and Instagram.
In the video, Brosnan showed a picture of the former child stars at the 1993 premiere of "Mrs. Doubtfire" before panning to Lawrence, Wilson and Jakub today.
"Here you go: At the premiere of Mrs. Doubtfire and here we are, we pull back slowly, tada!" Brosnan is heard saying on the video. "Love you, love you all so much. So good to be a part of your lives. I want to get into the picture as well."
"Haha yes! Our Stepdad!" Wilson said, which Brosnan replied, "Stepdad Stu!"
Jakub had teased the reunion prior to meeting up with her former castmates.
"So I feel like I pretty much live in hotels and airports these days. So hi from another airport," Jakub said in an Instagram video. "I am on my way to Los Angeles and I am doing that because of a certain significant anniversary that is coming up next month and, uh, a couple of fake siblings that I used to have."
The film will be celebrating its 25th anniversary on Nov. 24.
Robin Williams, who passed away in 2014, won a Golden Globe in 1994 for his role as Mrs. Doubtfire. Jakub played the eldest Hillard child, Lydia.