Phil Robertson gives Miss Kay a wedding ring for Christmas amid controversy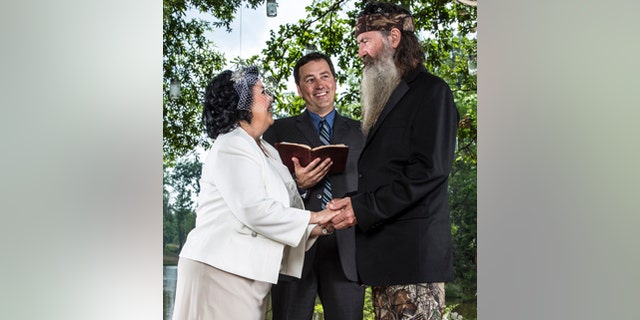 He may be suspended from his A&E show "Duck Dynasty," but Phil Robertson is still feeling the love.
Phil and Miss Kay's granddaughter Sadie revealed via Twitter that on Christmas the Robertson patriarch gave his wife a long overdue gift.
"After 50 years of marriage Papaw Phil finally gave Mamaw Kay a wedding ring for Christmas," Sadie Robertson wrote along with a picture of the pair.

In the photo, Miss Kay smiles while wearing a red Christmas shirt with a tree on it. Phil is laying back on his camouflage couch in a white tee and camouflage pants, pointing to the ring.
The gift comes at an interesting time, as Phil was recently indefinitely suspended from "Duck Dynasty" for comments he made about homosexual sex and Civil Rights to GQ.
Click here for more from the HollywoodLife.com