Paulina Porizkova reveals life after split from The Cars' Ric Ocasek: 'I don't know what to make out of it yet'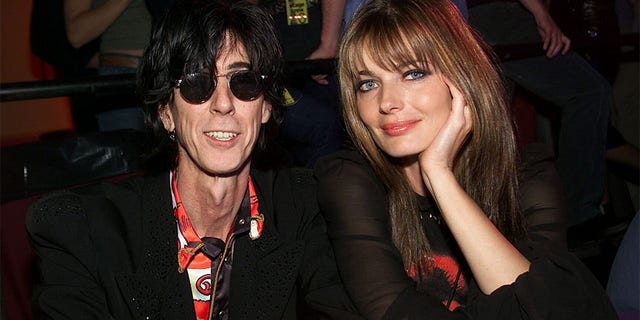 After 28 years of marriage to The Cars' frontman, Ric Ocasek, Paulina Porizkova is single again.
The former supermodel announced earlier this month that the couple has been "peacefully separated for the past year." They have two sons.
BIGGEST CELEBRITY BREAKUPS OF 2018 SO FAR
The 53-year-old admitted to Closer Weekly Thursday that starting over is far from simple.
"It's so scary and weird," she told the magazine. "I don't know what to make out of it yet."
However, one thing is certain for the two-time Sports Illustrated Swimsuit cover girl. She has no plans to make a trip down the aisle anytime soon, if ever.
"I feel like I've had my soulmate," she insisted.
And Porizkova added she just doesn't have time for romance these days.
"I'm finishing up a memoir, giving a TED Talk next week and doing a TV pilot," she explained. "And I really want to learn Italian. I want to seize the day and have some fun!"
Porizkova shocked fans on social media when she previously announced the split on Instagram.
"Our family always has been – and still is – a well-built car," she explained. "When the four of us are together, we can go wherever the road takes us. But as a bicycle, my husband and I no longer pedal in unison. So, we're ditching the bicycle.
"Ric and I have been peacefully separated for the past year. The photos of our happy family are, in fact, happy family photos; we are just no longer a couple.
"The love we have for one another is so wide and deep it's practically tangible, and that sort of love can never disappear. Expect to keep seeing happy family photos.
"As I'm sure you can understand, out of respect for our children and each other, we'll not be commenting further (here or elsewhere) at this time."
Porizkova and Ocasek first met while The Cars were filming the music video for "Drive" in 1984.
Back in 2015, Porizkova told Yahoo she was grateful to have someone like Ocasek in her life.
"I agree, we did get lucky to find the right person, having the brains to know that it's the right person, and to work on it and not let it fall apart when things aren't easy," she said at the time.
"It's always challenging with two people with separate careers," she added. "I know models and rock stars have a rep. It's hard when you spend a lot of time apart. Sometimes you risk growing apart. I've seen that a lot of times… [But] we have always been close as a family unit. "We have always traveled together and enjoyed spending time together."