Paul McCartney tickets intended for the homeless given to Australian Salvation Army leader's daughter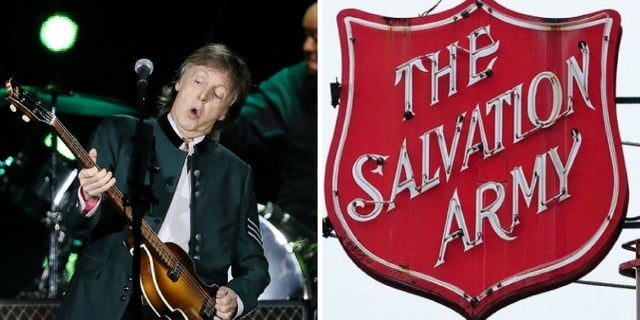 The Salvation Army in Australia has come under fire after the charity leader's daughter was given two tickets to a Paul McCartney concert that were meant to be donated to the homeless.
Brendan Nottle, the organization's head, defended his daughter, Ash, and tried to explain the situation, The Guardian reported.
Local Beatles fan Chris McDonald donated seven Paul McCartney tickets to the Salvation Army for the homeless. But, Nottle said two of them were returned shortly before the show. Nottle said Ash was given the tickets by a manager.
"At the last minute, two tickets were returned and [a manager] made the decision to give them to my daughter," Nottle told 3AW. "It had absolutely had nothing to do with me."
COMEDIAN SUED FOR TURNING MEN WITH TICKETS AWAY FROM HER WOMEN-ONLY SHOW
Nottle claimed his daughter took the tickets so she could "look out for the five homeless people at the concert." Ash took her partner to the concert.
Nottle said McDonald would be reimbursed for the tickets and noted that they were not a suitable donation for the homeless.
"When you're working with homeless people, to be blunt, do homeless people need tickets to Paul McCartney or do they need a roof over their head?" he said.
"We are not Ticketmaster, we are not concert promoters, we don't do that stuff and we get it wrong sometimes, you know," Nottle continued.
Nottle said the Salvation Army would "absolutely learn from this" and added his daughter Ash is one of "the most giving people I know."
DUSTIN HOFFMAN ACCUSERS THANK JOHN OLIVER FOR HIS SUPPORT IN OPEN LETTER
"The tragic thing is the daughter that's involved is one of the most giving people I know," Nottle said. "In this work you don't do this stuff for the kickbacks."
Despite the ticket debacle, McDonald said he would continue to support the charity.
"They do an awful lot of good for people and for the homeless," McDonald told Fairfax Media. "I have been a recipient of their relief so I know how important the work they do is, but the golden rule is never to dip your hand into the donations – it calls the integrity of the entire organization into dispute."