Patti LaBelle loses her shoe and her spot on 'Dancing with the Stars'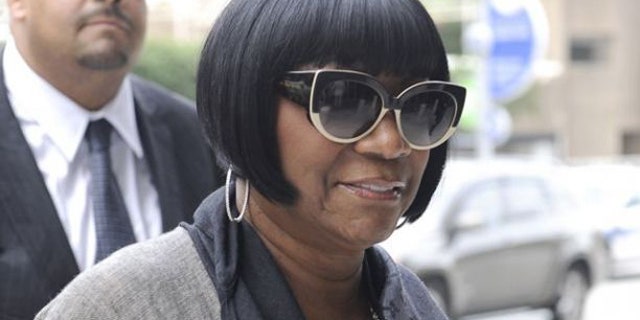 Patti LaBelle was supposed to kick off both shoes during her "Dancing with the Stars" performance Monday night.
But in a bizarre mishap, music's beloved "Lady Marmalade" only was able to kick off one of her high heels and then had to complete her quickstep dance with one bare foot.
Sadly, the 70-year-old singer then got a kick of her own—off the show in the elimination segment that closed week six of the competition.
LaBelle, who danced with pro Artem Chigvintsev, explained to FOX411 that she's known for going barefoot for concert fans and hoped to do it for "DWTS" viewers: "I do this in my show all the time and Artem saw my show in Alabama and he said, 'Patti, at one point in this competition, you have to kick both shoes off.' So I said, 'Got it.'"
But in the spring break-themed dance set to the song "Heat Wave," she said backstage, ""One came off and one didn't."
As always, the show biz trouper saw the positive, saying, "It was awesome. I liked that! It didn't stop us."
The judges praised LaBelle's gutsy performance and gave her a score of 29 out of 40, but LaBelle still was sent packing.
"Somebody had to leave—Rob[ert Herjavec] or Patti. It was me," she shrugged.
Indeed, "Shark Tank" star Herjavec got the lowest score of the night and at first thought he was eliminated, he told reporters afterwards.
"I thought we were gone, so I started to grab [partner Kym Johnson's] hand and walk."
Kym said, "I'm like, 'not yet.'"
Instead, it was Patti whose LaBelle had been rung but she said, "I'm not disappointed. Should I be?," noting to FOX411 she'd made it past the show's halfway point.
She learned from the show "that I really can learn other things in life like listening to Artem giving me instructions not to move, how to count. I've learned that I'm a very disciplined person."
LaBelle also wants people to know, "That you can do anything at any age. Don't let 70 stop you from having a life. I'm 70 years young and I feel great."
With her dancing days done, she planned to visit her newborn granddaughter and embark on a concert tour beginning in May that would include stops in London and Amsterdam.
However, the "New Attitude" star also hinted that she might return to "DWTS" to sing later in the season.
"One never knows ... maybe," she teased reporters.
Her dance pro Chigvintsev said, "I had the best experience ever and Patti taught me so much. It's just life-changing for me. She make me be a better person."
LaBelle had the last laugh as she left the "DWTS" stage, "I lost a few pounds and I got a bad knee from it all."