Paramount would fight sequel to 'It's a Wonderful Life'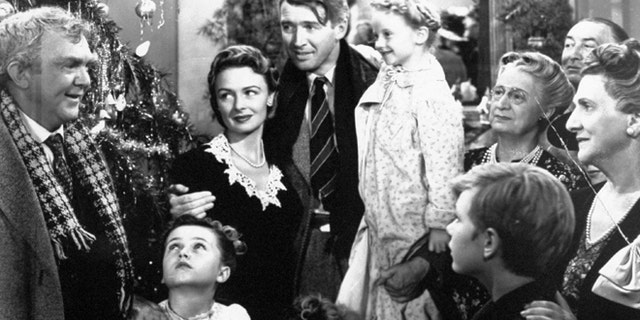 LOS ANGELES – Paramount won't be giving any wings to a planned "It's a Wonderful Life" sequel.
A studio spokeswoman said Wednesday that Paramount would fight the proposed follow-up to the 1946 holiday classic starring Jimmy Stewart as George Bailey, a desperate family man who imagines during Christmas time what his town would be like if he'd never been born.
Star Partners and Hummingbird Productions announced plans Monday to create a sequel to the Frank Capra directed film titled "It's a Wonderful Life: The Rest of the Story."
Bob Farnsworth, president of Nashville, Tenn.-based Hummingbird Productions, told trade publication Variety that the film was set for release in 2015 and would star Karolyn Grimes, who played Bailey's daughter in the original film.
The filmmakers said the sequel would focus on Bailey's unlikeable grandson. Grimes, who said the iconic line "Every time a bell rings, an angel gets his wings!" in the original film, would play an angel in the follow-up.
"No project relating to `It's A Wonderful Life' can proceed without a license from Paramount," the studio said in a statement. "To date, these individuals have not obtained any of the necessary rights, and we would take all appropriate steps to protect those rights."
Farnsworth and Star Partners president Allen J. Schwalb did not immediately return messages seeking comment. Farnsworth previously told The Hollywood Reporter that the property's rights were in the public domain.
While a lapsed copyright led TV stations in the 1970s, `80s and early `90s to repeatedly broadcast "It's a Wonderful Life," Paramount has controlled the rights for the past 14 years, after the studio acquired Republic Pictures as part of its acquisition of Spelling Entertainment in 1999. Paramount has since licensed "It's a Wonderful Life" to NBC, which now airs it sparingly during the holiday season.
Tom Capra, son of "It's a Wonderful Life" director Frank Capra, who died in 1991, said the Capra family does not support a sequel -- and they don't think their father would have, either.
"If he was still alive, he would have called it ludicrous," said Tom Capra. "Then, I think we would have called his lawyer. Why would you even attempt to make a sequel to such a classic film?