Pamela Anderson says younger boyfriend Adil Rami helps her cope with menopause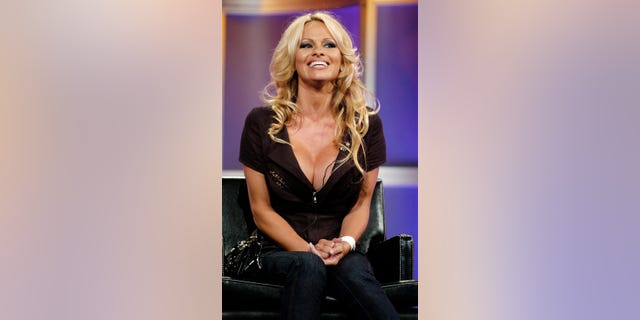 NEWYou can now listen to Fox News articles!
At age 50, Pamela Anderson has found love again with 32-year-old French soccer player Adil Rami.
"He cares about me deeply," the "Baywatch" bombshell told UK's Daily Mail Monday. "We have a very healthy, simple wonderful life without all the bells and whistles. We both have our children to try to squeeze into the equation, but he is amazing. He is a good guy, really a good guy."
Anderson added, "We want to protect our love. There are a lot of fake and phoney relationships out there, people just trying to get noticed. He does not want this and neither do I. He is not with me because we wants attention and vice versa."
Anderson, who left California for the south of France last year, insisted she wasn't looking for romance. However, after raising two sons, now sought-after models, the ex-wife of Motley Crue rocker Tommy Lee was feeling lonely and in need of something exciting to lift her spirits.
"I would cook and make dinners and no one showed up," she explained. "I was lonely and I felt, I am done here. I had empty nest syndrome, all sorts of syndromes. Hormones! Hot flushes! Moods! It was all happening."
And there was something else Anderson was worried about: menopause. The actress/model revealed her mother "had a really hard time with hers" and she feared the worst.
"I knew something was changing," said Anderson. "I definitely feel a change. I think I am peri-menopausal, or whatever it is called. I felt very emotional, very poetic, very dark and dreamy."
The bodacious blonde confirmed she's been living with her beau for eight months in Marseille where he plays for the local team.
Anderson said she enjoys spicing up the relationship by wearing "little vintage slips, sexy things" in their home, all while avoiding flat shoes and jeans. She even claimed the pair don't abstain from sex before a game, as some may expect.
"Not if I've got anything to do with it," she insisted. "No, that rule does not apply to us."
The bodacious blonde, who starred in the lifeguard drama as C.J. Parker from 1992 until 1997, said she isn't worried by the age difference. Instead, she prefers to live in the moment.
"Well, I say to Adil, 'One day, I am going to fall apart, you know that? So be prepared,'" said Anderson. "'Let's be in love for as long as we are in love and if there is ever one day, you look at me and go, 'Ugh,' well, I can always go and live in another country."
As for leaving behind the United States, the country that has made Anderson an international sex symbol, she has zero regrets.
"I had this fantasy a lot of women have at this point in their life, which is to create a new life," she said.
The former Playboy centerfold even claimed that despite her infamous sex tape with Lee from over 20 years ago, she's anti online porn and dating apps these days.
"The best sex is in a committed relationship, knowing someone's nuances and sensuality is what makes you a good lover," she said. "You must be brave enough for intimacy."
Anderson said she's currently learning to speak French so that she and Rami can enjoy stimulating conversations about politics outside of the bedroom.
"He doesn't speak very good English, I don't speak very good French, but we have the body language, the language of love, another communication level that is deeper than words," said Anderson. We have something special. It is amazing how it just clicks."