Pam Anderson Shocks Crowd at New Year's Party With Strange Behavior, Nipple Slip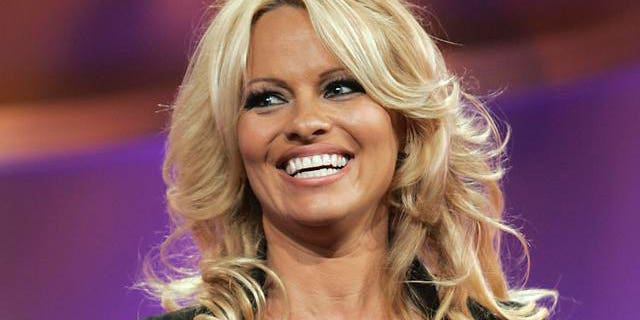 LOS ANGELES – Pamela Anderson certainly seemed ready for a party as she hosted the Gridlock New Year's Eve event at Hollywood's Paramount Studios on Friday night. But the former "Baywatch" star gave party-goers a little more than anticipated when she let her left nipple "slip" while toasting to 2010 with Adam Lambert.
Although we're told Anderson "pretended" it was a genuine mistake, the incident was nothing compared to other crazy behavior at the bash that had everyone whispering.
"[Anderson] is a total space cadet," our source said. "She appeared [really] out of it."
Another party-goer told Tarts that Anderson almost collided with one of the workers at the party as she made a hasty exit, all while shouting about her fascination with a guest who had "bigger boobs" than her.
But could these "wardrobe malfunctions" be a calculated way for the former "Baywatch" babe to stay in the spotlight.?
Last year, Anderson exposed her breast while strutting the runway for Vivienne Westwood at Paris Fashion Week. In addition, she also flashed the flesh at a party for Virgin Atlantic Airways and had to scramble to hold her scarf-turned-dress up after it almost fell to the floor during a Muse photo call with her BFF, fashion designer Richie Rich.
Anderson also turned heads for all the wrong reasons in 2009 when she showed up at the classy Art Basel Miami Beach gallery event in only a pair of black and orange underpants with an off-the-shoulder shirt.
But it wasn't just fashion experts who were left in dismay over Anderson's choices. The 42-year-old mama also managed to make headlines last year anger by enraging child advocacy groups when she enlisted a nine-year-old girl to hold up her dress for the entire evening at the Hollywood Style Awards.