Oprah Winfrey issues apology for 'begging' viewers to watch OWN instead of Grammys Sunday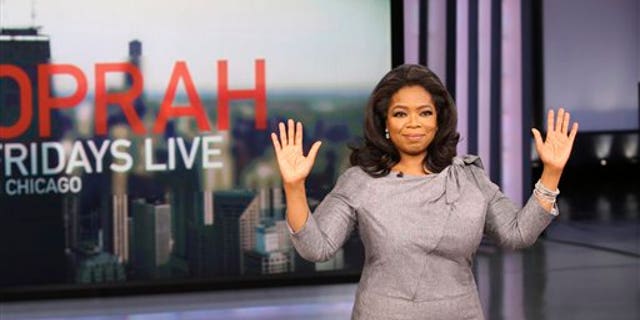 Oprah Winfrey found herself embroiled in a Twitter furor and offered an apology Monday after she took to the microblogging site a day earlier urging her fans -- especially Nielsen households -- to watch her struggling cable channel OWN instead of the Grammy Awards.
"Every 1 who can please turn to OWN especially if u have a Nielsen box," the former talk show host tweeted to more than nine million followers Sunday, just before her new interview show "Oprah's Next Chapter" started, Entertainment Weekly reported.
While some tweeted their thanks to Winfrey for the reminder, the overwhelming response was negative, with readers criticizing Oprah for "begging for viewers" and being "desperate."
A defiant Winfrey defended herself, writing in a series of tweets, "The word 'please' is used as courtesy not a beg … 'desperate' not ever a part of my vocab … 'unethical' a little harsh don't u think? Seemed like it made sense to me. Sorry if u're offended."
However, on Monday morning, Winfrey issued a statement saying, "I removed the tweet at the request of Nielsen. I intended no harm and apologize for the reference."
According to the New York Times, the apology came after Nielsen and OWN executives corresponded Monday morning.
Nielsen measures TV viewership by a sample of about 25,000 households across the country. Networks are not allowed to appeal to Nielsen viewers directly or attempt to influence their viewing habits.
"It is Nielsen's policy to note attempts to single out panel members to either change their viewing habits or otherwise influence or affect their reporting," Nielsen spokesman, Matt Anchin, said in an email.
The company said that it would attach an asterisk to OWN's ratings at the time of Winfrey's tweet, with a note stating that the figures may have been the result of a "possible biasing effect."
Ironically, Winfrey was among the 39.9 million people who watched the Grammys on Sunday night.
The Times, citing Winfrey's executive producer, Sheri Salata, said that the Atlanta hotel the pair were staying in did not carry OWN, and five minutes after the Nielsen tweet, during a Grammys commercial break, Winfrey wrote, "Grammy people..u can turn to OWN."